Adoption of cutting-edge technologies in agriculture is  the sure-shot way to enhance farmers' income and increase productivity 
In the last two years of the COVID-19 pandemic, Bharat's economy went through one of its worst phases. Yet, Bharat was able to feed its 1.3 billion-plus population with sufficient food.  Almost 800 million people were given free food grains. This became possible because our 14 crore farmers produced plenty of food. Our godowns were overflowing with much more quantity than required to meet our mandatory requirement of the public distribution system (PDS) and the buffer norms fixed by the Government for food grains in the central pool. In the two pandemic-affected financial years, the agriculture and allied sector grew at more than three per cent.
But this is one side of the story. If we look at the other side, our farmers earn less than Rs 8,000 per month on average as per Government data. It is very difficult for a family to survive and to lead a reasonable good life on such a small amount. That is the reason many in the farming families, particularly the younger generation, are not interested in continuing with agriculture as a profession.  However, sufficient avenues are not available in other areas of the economy to shift a big section of the population from the agriculture sector. Today, more than 60 per cent of the population still depend  on agriculture to earn their  livelihood.
An Inspiration  
Sethpal Singh, a progressive farmer of Saharanpur's Nandi Ferozepur village, was conferred with the highest civilian honour – The Padma Shri by President Ram Nath Kovind.
This was not the first time when Sethpal Singh received the award for his innovative farming techniques. He was awarded the Innovative Krishak Samman by ICAR in 2012, followed by Jagjivan Ram Abhinav Kisan Award in 2014. And again Fellowship Award in the year 2020.
Seth Pal Singh lives in Nandi, Ferozepur, with his six brothers and their family. He has about 40 acres of land. Earlier, Sethpal and his brothers did traditional farming. In 1995, when Seth Pal thought of doing something new in agriculture, he started going to the Krishi Vigyan Kendra at Saharanpur. He learned about various new agricultural methods from agriculture scientists.
Initially, Seth Pal Singh started growing crops like flowers, fruits and vegetables, and traditional crops. His interest grew further after training in the workshop at Krishi Vigyan Kendra. He adopted agriculture diversification. He has grown water chestnuts in his field instead of ponds and made a good profit. He never burns stubbles, and his soil does not lack nutrients. He installed vermicomposting and NADEP composting in his field.
Seth Pal has been into multi-cropping and relay cropping for years. He grows bittergourd among vegetable crops, followed by bottle gourd and spinach. In one year, he thus grows one vegetable after another and makes a profit of about four lakh rupees per acre. Other farmers saw the benefits of his way of farming and emulated him.  Along with sugarcane, he grows French beans, urad, moong, onion, fennel, potato, mustard, Masur and turmeric as co-crops. His contribution to organic farming is also substantial. Sethpal Singh is one of the pioneers who has been experimenting & innovating agriculture, for example, he produces water chestnuts in the field instead of in the pond.
Therefore, we have to find a solution in the agriculture sector itself and ensure better income for farmers in their profession. The answer lies in technology. We have to increase technological intervention in the agriculture sector. The agriculture sector is passing through a transition phase.  It is ready for a big change and carrying on with older technology will not work now. We need the latest technology for agriculture. We have to bring it from any part of the world, wherever its benefits have been proven and it has given results.
The use of information technology in agriculture is increasing very fast. This can reduce the cost for farmers and bring uniformity in production. We need solutions for each and every field for every crop, and technology has now made it possible
We must recognise the fact that we have constraints on two very important fronts in increasing the farmer's income — increase in the price of farm produce and increase in the cultivable area. The first has many factors, both domestic and international. Commodity prices move as per demand and supply and there are limits to any country intervening into prices. We have to recognise that farmers must get a reasonably good price to make a profit over their investment in crop and input material. But increase in income through this route can be arithmetical and not geometrical.  We have a minimum support price (MSP) mechanism for 23 crops but the procurement happens only for half-a-dozen crops. We have to accept this reality. As for the second constraint of crop area, we are losing arable land day by day due to increased urbanisation and infrastructure development, and chances to increase the crop area are remote.
Now, the challenge is that we have to grow more from less area and we need to increase the farmer's income amid the constraint of the price increase. And this is where technology has a big role to play. The Green Revolution, white revolution and blue revolution increased our food-grain production, milk production and fish production respectively. India has become number one in milk production in the world and number two in horticultural produce. The value of milk has crossed the total value of food-grain production. This became possible with the intensive use of technology in transportation, storage, processing, value addition, and marketing of milk and milk products. Technological intervention in breed improvement also helped achieve higher production.  Milk production and distribution is an area where we have proved how technology can increase the farmer's income.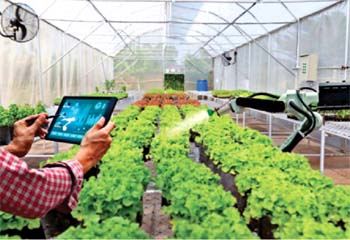 New technological interventions are also being made in crop production along with new research. It starts from the soil. New technologies are available to test soil health. Machines are available that can measure the level of nutrients in soil in a few hours. Computers analyse data and give exact results and subsequent recommendations for the nutrients required for a particular field. This leads to a reduction in input cost and better yield and keeps the soil health better. You can prepare a soil fertility map. This helps plan cropping pattern in a better way. This is just one example.
There are a big number of technologies available to use at different stages of a crop till you harvest it. New technologies are available in seed development. Developed varieties of seeds are bred for better yield and resilience to diseases and even to abnormal temperature changes due to climate change. Scientists are working on these kinds of new varieties worldwide and in our country also.  Gene-editing technology is available that significantly reduces the time for developing a new variety from the same family of plants as compared to the traditional breeding process through crossing the lines.
Technologies are available to make the use of fertilisers more effective and to reduce their requirement significantly. India is a net importer of fertilisers. For some very important fertilisers, our dependence on imports is very high.  Reducing the use of fertilisers is a big challenge for our country. For that, we need better technological intervention and even more research on fertilisers. We are a very big player in agriculture but research on fertilisers in our country is negligible. We are still using fertilisers developed in other countries long back. We need intensive research on fertilisers to develop new products suitable to our soil and to reduce the cost of the farmers.
86% Farmer Groups in the Country Supported Now Repealed Farm Laws
Farmer leader Anil Ghanwat, one of the panel members, released the report in Delhi after his repeated requests to the Supreme Court to release the report did not elicit any response.
The Supreme Court-appointed panel to look into the now-repealed three farm laws found that about 86% of the farmer organisations supported the new farm laws. It's a very significant development considering the three farm laws were repealed by the Union government in December last year after a year-long protest by the farmers.
The Supreme Court had stayed the implementation of the three farm laws and had formed a four-member panel in January last year to look into the laws and the grievances of the protesting farmers.
The panel had initially four members: agricultural economist Ashok Gulati, Shetkari Sanghatana President Anil Ghanwat, former South-Asia Director of the International Food Policy Research Institute Pramod Kumar Joshi, and the president of the Bhartiya Kisan Union (Mann), Bhupinder Singh Mann. Later, Mann had recused himself.
Ghanwat, in the press conference in Delhi, said that the panel had submitted the final report to the Supreme Court on March 19, 2021. But the Supreme Court did not make it Ghanwat said he wrote three letters to the Supreme Court requesting the court to release the report to the But his letters did not elicit any response from the court.
"If the Supreme Court had released the report in March last year, the three farm laws could have been saved," Ghanwat said.
Of the 73 farm organisations the panel had interacted, 62 farmer organisations, representing almost 4 crore farmers, had supported the now-repealed farm laws. Ghanwat said, "We submitted our final report to the Supreme Court on March 19 2021. The report identified a range of opportunities for improving farm laws and advised the Narendra Modi government on options for amending them. We also asked the government to communicate better with farmers to allay any unfounded concerns. And we advised against repealing the laws as it "would be unfair to the 'silent' majority who support them"."
Commenting on the Minimum Support Price (MSP) issue, the report said, "Any product that is produced needs to be traded at a viable price. MSP is an indicative floor price to protect the farmers against any undue fall in prices, especially at the time of harvest. The government does not have the financial coffers to buy whatever is produced of all 23 commodities that are currently under the cover of MSP."
In a televised address to the nation on November 19 last year, Prime Minister Narendra Modi had announced his government's decision to repeal the three new farm laws in the then coming winter session of Parliament, which was scheduled to commence on November 29.
Prime Minister Modi said that despite his best efforts, he could not convince some farmers about the benefits of the three new farm laws. He also emphasised that he and his cabinet colleagues made multiple attempts to convince the farmers about the benefits of the three new farm laws. n
Apart from conventional technologies, the use of information technology in agriculture is increasing very fast. This can reduce the cost for farmers and bring uniformity in production.  At the same time, it has the capacity to help farmers make the right decision at the right time for better crop production. It starts at the level of ploughing the field. A laser leveller is available to the common farmer now. The farmer can save a significant amount of water in irrigating his field with the help of this technology. This results in direct saving on two counts:  one, he saves the energy cost to be used in drawing the water and two, this is good for keeping the water level from going down.  Drip and sprinkler systems are also being used by the farmers in irrigation and we need to promote the uses of this technology. It reduces the requirement of water from 50 to 80 per cent. One can imagine the monetary benefits of this technology. The use of this technology is not limited to plantation crops only; it is now being used for sugarcane, vegetables, wheat and rice. Efficient use of water for crop irrigation can bring big monetary gains for farmers.
Agricultural machinery is not limited to tractor, combine harvesters and some other farm equipment.  We now have precision farming technology and tools. Satellite images are being used to assess the area and the progress of the crop. Sensor-fitted drones can find out which part of the field is affected by a disease and will spray pesticide only on that patch of the field. This technology is capable of reducing the use of pesticides and keeping a large part of the crop free of pesticide residues. There are sensors to detect nutrients level in the soil and discharge required fertilisers only on that patch of the land.  As IIT-Hyderabad Professor P Krishna Reddy told this writer, each and every plot of land is different from the other. The land has been cultivated for thousands of years in our country.  We need solutions for each and every field for every crop, and technology has now made it possible. But, says Prof Reddy, we need to work a lot on the use of technologies in agriculture. We have to bring the scientist between the farmer and the input supplier. Just as if we are ill, we go to the doctor for a prescription instead of going directly to the chemist shop. Currently, only general advisories are issued by agricultural universities and agricultural departments.
We need technologies in agriculture to reduce the yield gaps. It is a big challenge for us. Compared to the advanced countries, there is a huge gap in the yield of crops. The yield varies even within our country from one region to another. If we are able to bridge this gap, it will increase the farmers' income significantly. Also, merely having technologies and doing research cannot make us achieve our goal of increased income for the farmers.  Technology must reach the farmers, whether in the form of better seed, plant material, nutrients, good farm practices, crop protection or storage and post-harvest technology. Besides, it has to be economically feasible for the farmer to adopt it.
For all these purposes, we need a strong policy and farm extension framework. The farm extension system has collapsed in a majority of States. Agriculture being a State subject, State Governments are responsible for its major groundwork and implementation part.  Agriculture and farmers are very important for parties politically and for the State as a whole economically because the majority of our population are agriculture-dependent.  It is time State Governments rose to the occasion and worked hard to increase the use of technology in agriculture because this is the best solution available to increase the farmer's income.