Does AAP have the courage to stem the rot of Punjab? For this, it needs political resolve and a vision. It has been found wanting in all departments of its governance so far
Victory of the Aam Aadmi Party (AAP) in Punjab is seen as a major milestone in the political scenario of India. Arvind Kejriwal has already staked his claim as the new national challenger to Bharatiya Janata Party (BJP). There is no doubt that the size of victory of AAP is stunning. But, so is their total debacle in Uttar Pradesh and Uttarakhand where all its candidates lost its deposits. In Goa, too, the show has been poor. I am not discounting the rise of AAP but I think, AAP should be looking at a time horizon of ten years to become the core of opposition unity. Till 2024, it will be trying to enter new territories where Congress is abandoning its ground or withering away. I think Gujarat is next in line, followed by Haryana. As a young party, AAP may prove to have more energy to fight it out with BJP than the tired old world political parties who can't think beyond caste and religious identities.
In this competition to outrun other opposition parties, AAP getting power in Punjab is very important to its plans. AAP has the advantage of not being branded as a regional party. TMC, competing with AAP to become the spearhead of the opposition, has a huge disadvantage of branding itself as a Bengali regional outfit like Shiv Sena with aggressive talk of "Insiders" and "Outsiders." Bengal was the spearhead of Hindu renaissance and national renaissance with a clear national vision. However, TMC has reduced itself to a politically small-minded state.
Hand in Delhi Riots
Aggressive espousal of Muslims welfare at the cost of Hindus in Bengal, silent collaboration with jihadi elements after last elections when Hindus were killed, raped and looted will remain a black spot in its history. AAP, too, began by playing anti-Hindu card in the name of secularism but it's a fast learner. Understanding the strong resentment among Hindus for being taken for granted and abused as in the case of Delhi riots for which many collaborators had links with AAP, Arvind Kejriwal has changed tracks. He hopes that Hindus will slowly forget his role as agent provocateur in CAA and farmers' agitation. Thus, on various counts, AAP has an advantage over TMC. Other parties, who fought on the basis of caste politics, are clearly out of sync with the new politics.
But the most critical issue is, how will AAP handle Punjab? Because, its failure or success depends on its handling of Punjab. Delhi, with huge central grants as the capital city and high revenues, can afford a game of irresponsible fiscal policies and waste of public money on self-promotion. Delhi Government has no responsibility in maintenance of law and order so it can get away by fomenting trouble in the name of CAA or farmers' protests. But Punjab is a full-fledged State.
AAP should be looking at a time horizon of ten years to become the core of opposition unity. Till 2024, it will be trying to enter new territories where Congress is abandoning its ground or withering away. I think Gujarat is next in line, followed by Haryana
Punjab is not just a full-fledged State but also has a very troubled history. Frictions and fissures created by Congress since Independence that resulted in resentment among Sikhs and playing dirty politics of dividing Hindus and Sikhs to keep Akali Dal out of power saw the rise of terrorism in 1980-90 for which Punjabis and Bharat paid a heavy price. One would think that politicians had learnt their lessons. However, the way farmers' agitation was fanned cynically by Congress, Akali Dal and other parties like AAP tells us that we forget history lessons easily. The kind of Sikh-Hindu divide Punjab is witnessing now was not there even at the peak of Khalistani campaign 1.0. I was witness to campaign 1.0 from close quarters. Even at the height of the terrorism, when Government seemed to be absent, one didn't see this kind of schism between the two communities because they are connected deeply in relations of blood, common heritage and cultural roots.
Sikh history Reinterpreted by Khalistanis
Khalistani elements have been working assiduously to create a narrative that the two communities have no links by distorting history and misinterpreting scriptures based on British historian Macaulif's interpretation who was drafted by the British to create a rift between Sikhs and Hindus. Their sources are no more the great authentic sants like Bhai Gurdas. While the Government and other think tanks thought that situation was normal, Khalistanis were reinterpreting the Sikh history and theology. The rising schism that you see today is the result of these efforts. Today, the new generation of Sikh youth finds the deep links with their Hindu brethren fictional.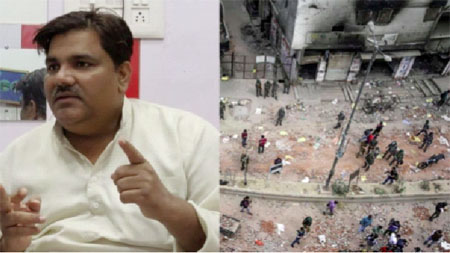 The current social situation in Punjab is a result of the narrative created by Khalistanis with active support of Pakistan since the 1980s. Khalistanis first tried to exploit AAP in the last State elections with their active support. AAP fell for the bait but suffered heavily for this association as many prospective voters deserted it recalling the harrowing days of Khalistani campaign 1.0. Then came a high-profile social media campaign for Referendum 2020 with the active support of their friends who wished to create problems for India. But COVID-19 pandemic smothered it.
Painting PM in a Negative Light
Last year, the virulent opposition to farm laws, which was an economic step, was turned into a religious issue with gurudwaras and SGPC jumping into it, providing a field day to Khalistanis. Entire opposition including AAP was not far behind. Farmers' agitation was misused to create chaos. It nearly succeeded when the Modi Government chose to scrap the laws to calm the waters. But mischievous propaganda was able to paint Modiji in a very negative light.
It is in this scenario that Punjab elections came. AAP became the natural choice for the voters tired of old alternatives of Congress or Akali Dal. BJP being an ally of Akali Dal for years too suffered from this association. AAP's work in Delhi magnified well through a huge media campaign that won the day for them. They were clever enough to stay away from Khalistani elements in
AAP has been blessed with power in a full-fledged State for the first time. Will it be able to control the mischievous elements in Punjab or will it succumb to them like Akalis did in the 1980s? Will police hands be tied and will the leaders be found looking the other way? This is the real danger.
Punjab has slipped from number 2 in GDPS to number 16 in the last few years. Migration of its youth is a chronic issue. Hardly any youth, whether well-educated or unskilled, wants to stay back. Just look at Punjabi cinema to understand that it is the centrepiece of nearly all the stories. It reflects a social reality. It is a State in which the youth see no future. They are selling lands, cheating migration rules and moving out. Big landlords, who were the spine of the farmers' agitation, are sitting over the farms run by migrant labour from UP and Bihar. Its productivity is high on the back of huge exploitation of ground water which is depleting in a horrific manner due to pesticides and inorganic fertiliser. A recipe for disaster that has seen rising salination of soil and rising cases of deadly diseases like cancer. Will AAP have courage and innovative urge to change the cropping patterns which were necessitated due to demands of Green Revolution but are no more required? Can it lure back the young talent of Punjab with optimism of a good future?
Second danger is the bankruptcy of Punjab. AAP has already raised the expectations of the people with huge promises of freebies. Can a State Government finance these 'electoral bribes' in a State that is facing one of the highest public debts and falling tax collections as industries close or move out of a State that doesn't support them? A State that supplies free power to farmers but deprives industry of it?
Brave talks of new medical colleges, etc, are fine. But, for a Government that couldn't create a single new medical college or hospital, it seems improbable. AAP may fulfil the promise of improving schools. But higher quality education is falling precipitously in Punjab. The urge to raise revenues saw AAP intoxicating Delhites with cheap liquor available just like milk and cooking oil. Punjab, already famous as udta Punjab could become a doobta Punjab with a Chief Minister whose love for alcohol is well known. Punjabis love their daily dose of booze. Will AAP encourage them and watch the quality of family life deteriorate?
According to a Financial Express report dated January 24, 2022, "Punjab's annual debt servicing liability is almost the same as its annual gross borrowings, leaving little resources for asset creation. The State has consistently underperformed vis-a-vis its capital expenditure targets: it achieved just 42 per cent of the target in Financial Year 2021 and 10 per cent in Financial Year 2020." According to a The Times Of India report, dated October 25, 2021, it had a public debt of Rs 2.82 lakh crore in October 2021. Farmers in Punjab carry a debt of Rs 90,000 crore. It is no more the number one grain supplier to India. Madhya Pradesh pipped it at the post this year.
Propaganda Machinery will not work
This is the Punjab that AAP has inherited. AAP has governed a glorified city state, a Municipal State Corporation with least responsibility and many times, abandoned the responsibilities by blaming the Central Government. No political party has put its claims of improvement in school education and health sector to test. It won't be able to pass on the serious problems to the Centre here. Does it have the courage to stem the rot of Punjab? I hope it can. For this, it needs political resolve and a vision. It has been found wanting in these departments in its governance so far.
AAP should be worried as propaganda alone cannot resolve the chronic issues of Punjab, nor can soft pedalling of serious threats to national issues solve themselves, especially if those elements claim to have a hand in its victory. India cannot afford to see Punjab get roiled by fires of separatism lit much more easily with new tools of mass communication by a few people sitting outside India with even a limited support from a few locals. Even in earlier episodes they never had a huge following. But a weak State can help them look more powerful than they are. Nation is worried. I hope my forebodings are misplaced.