Pradeep Rao Ketkar, the father of Organiser Editor Prafulla Ketkar, passed away on March 2. A veteran Swayamsevak, he was Sah Sanghchalak of Nashik Mahanagar.
A prayer meeting for Pradeep Rao Ketkar will be organised on Wednesday (March 17) evening in Nashik. There is an arrangement to join the prayer meeting through Google Meet. A veteran Swayamsevak, and Sah Sanghchalak of Nashik Mahanagar, Pradeep Rao passed away on March 2 in Nashik, Maharashtra. He was undergoing treatment for cancer.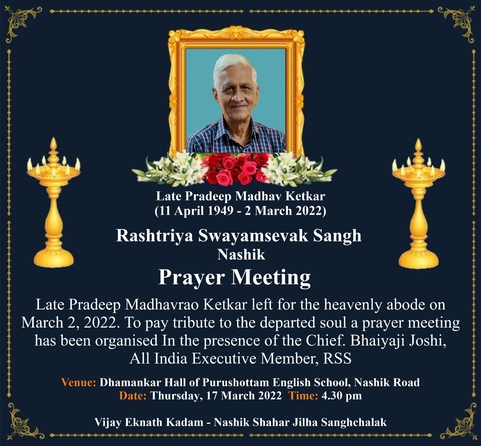 To join the prayer meet on Google Meet click this link
Earlier, Pradeep Rao was Sanghchalak of Jalgaon district in Maharashtra and had also served in Sanskar Bharati. Since his childhood, he was associated with the Rashtriya Swayamsevak Sangh (RSS).
On multiple occasions, he narrated how RSS inspired him to take up tasks to serve Maa Bharati since his childhood.
During the Emergency imposed by then Prime Minister Indira Gandhi, Shri Pradeep was Nagar Shareerik Pramukh and worked underground. Later, he was arrested and spent 14 months in jail.
He joined the Income Tax department as an officer and retired as Assistant Income Tax commissioner. He was an active participant in the Ram Janmabhoomi Satyagraha.
Pradeep Rao was a fatherly figure who guided Swayamsevaks towards the path of enlightenment and seva of Maa Bharati. His last rites were performed on March 3 in Nashik.