The Modi-Yogi wave has swept Uttar Pradesh once again. The thumping victory of Yogi Adityanath shows that his political trajectory is neither a flash in the pan nor a product of circumstances. The BJP's win will go a long way in reshaping the destiny of Bharat
Finally, as the poll results poured in on March 10, it became clear that Prime Minister Narendra Modi's mass appeal, repeated utterances about 'Double Engine' and 'performance' at various States seemed to make all the difference in electoral politics.
Top of these comes the Prime Minister's killer instinct, a sense of key decisiveness and major roles played by his fellow compatriots and junior colleagues Yogi Adityanath, Shri Amit Shah and Shri J P Nadda. The repeal of three Farm Laws in November 2021 has proved politically helpful and in contrast, the voters were least impressed by what people said even about western Uttar Pradesh.
In the past–that is in December 2017–Narendra Damodardas Modi had saved BJP's prestige in his home state of Gujarat in a tough fight. But in Uttar Pradesh and elsewhere the success of the Hindutva party in 2022 in Manipur and also Goa–two States with substantial Christian population–rested safely on the shoulders of its leader and the Prime Minister.
He has of course packaged and presented his winning image of a Hindu leader who struggles hard for Bharat's development. Even UP Chief Minister Yogi Adityanath figures in that scenario. These matter.
"Please do not underestimate our inclusive development agenda. This is one thing that is not appreciated in the media, but I tell you this makes all the difference. Just when there was a sinister campaign that minorities are not happy, we have Muslim voters in Uttar Pradesh and Christian voters in Goa and Manipur voting overwhelmingly for the BJP," Virendra Sachdeva, a Delhi BJP vice-president and a member of party's Good Governance cell, told Organiser.
The UP elections as also in Uttarakhand were tough this year in the north. The BJP as a ruling dispensation and Narendra Modi's government had come under severe criticism for alleged joblessness, farm issues, and management of Covid-19 crisis, especially in 2021.
But ultimately, it is the people who matter. Hence even in Baghpat, the so-called Jat heartland, the BJP nominee Yogesh Dhama has established a comfortable lead of 1,336 votes against his nearest Rashtriya Lok Dal (RLD) nominee Mohd Ahmed Hameed.
The election results have put a stamp on the schemes launched by PM Modi. This is the first time that a CM came into power in UP again. We're making a hat-trick in Goa. PM Modi changed the country's politics from 'Bhai-Bhatijawad' to politics of development. We won Manipur & Uttarakhand. We will continue this effort for the 2024 general elections

— JP Nadda,

BJP President
In terms of factors, on the ground, several reasons count. Some of them are strongly criticised during implementation. But once the risk is taken, these bring in political dividends. If the Triple Talaq Bill piloted by the BJP in 2017 would be seen in times to come as one of the best known political googly of our time. In 2022, the marriage age draft law perhaps appealed to Muslim women. Do not forget, BJP lawmaker and now MoS External Affairs Meenakshi Lekhi had said in Parliament, "When they have a brother like Narendra Modi, they (Muslim women) do not need to be afraid of anyone."
In Goa and Manipur, the BJP leaders could directly establish communication with Christians. In Manipur, the Kukis, mostly Christians, backed the saffron party and its peace policies towards insurgency groups. This has influenced party performance in a big way.
In terms of the re-election of Yogi Adityanath as the chief minister of India's most populous state Uttar Pradesh, it is now proved that the northern State has given the country a new generation leader. The saffron-clad Adityanath, born Ajay Singh Bisht in 1972, is 50 years old, 22-years younger than PM Modi.
In choosing Adityanath — one who adheres to an ascetic lifestyle — the BJP leadership in 2017 had not only authorised him to rule Uttar Pradesh but also given Hindu groups a new generation of leadership. Since then Yogi has been one of the star campaigners for the BJP in Karnataka and Tripura polls as well.
In between 2017 and 2022, Yogi has given Uttar Pradesh a better law and order situation with goondaism doing a vanishing act. Several gangsters have been put behind bars. The BJP implemented two of its major electoral promises – the abolition of Article 370 in Kashmir and the construction of a Ram temple at Ayodhya.
Both Prime Minister Modi and Yogi have trademark personalised styles of campaigning. These had an electrifying impact in many constituencies and even demoralised party workers for whatever reasons were galvanised into actions. Both Modi and Yogi tried to keep themselves rooted to the ground. Modi's Varanasi stay and interaction with commoners was also a game-changer.
Pramod Pandey, a voter in Baghpat, had said on the polling day – "The opposition campaign went haywire when they started attacking Modi and Yogi Adityanath personally. The Samajwadi Party claimed that there was no progress in UP Gujarat under BJP. Such campaigns did not go down well with people. Public opinion did not accept these."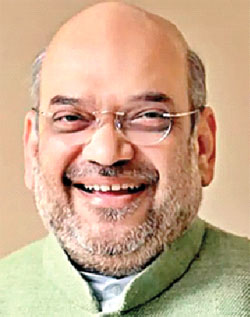 The grand victory of BJP in Uttar Pradesh is a victory of the unshakable faith of the poor and farmers of the state in PM Narendra Modi. People have put their stamp on Yogi Adityanth ji's corruption-free good governance

— Amit Shah

, Home Minister
Senior BJP leader Rita Bahuguna Joshi said, "Public mood is set for development, this is the win of 'Modi-Yogi' double engine Government. People have voted on the issues of security and infrastructure. After 30 years the same party is forming government in UP for the second time."
Mayawati-led BSP's tally could be only two. In comparison, little known Nirbal Indian Shoshit Hamara Aam Dal established a lead in five segments while Suheldev Bharatiya Samaj Party was leading in four. The Congress vote share was 2.4 per cent while BSP's vote share was around 12, but the former Chief Minister Mayawati-led outfit could not win many seats. Apna Dal (Soneylal) is likely to win 11 seats.
BJP wins 4-1
In the ultimate, the winners take it all. The BJP has safely retained powers in all four States – UP, Uttarakhand, Goa, and Manipur. The State of Punjab offers different political dynamics and hence the Congress was handed over a convincing defeat. At the national level, AAP and Congress are now in the same league — having powers
in two states each. Congress has its own chief ministers in Rajasthan and Chhattisgarh and shares power with alliance partners in Maharashtra and Jharkhand. AAP has Delhi and now Punjab.
In UP, Congress vote share came down to 2 and possibly it can win only one seat.
For Congress, Punjab Chief Ministerial face Charanjit Singh Channi, described as a 'masterstroke' card of Rahul Gandhi lost both seats he contested. Cricketer-turned-neta Navjot Singh Sidhu finished third.
In Uttarakhand Harish Rawat lost. But look at the height of arrogance; instead of feeling humbled at the mandate, Rawat said, "I cannot understand people saying 'BJP zindabaad' despite inflation". Incidentally, Rawat was another hand-picked soldier of Rahul army and as general secretary, he also damaged Congress prospects in Punjab.
In Manipur, the Congress faced a tough situation as regional parties like NPP, NPF and Janata Dal (U) put up a much better show than the Congress. The BJP's tally touched 32 in the 60-member House. "If these elections were endorsement for the BJP and Prime Minister Narendra Modi's brand of politics. It also means no confidence in Congress and Rahul Gandhi. People have accepted inclusive growth, the Sabka Saath agenda of Prime Minister Modi," says political analyst Tushar Bhadra in Varanasi.
Of course in Delhi, party's office-bearers say the elections are certainly a morale booster for the BJP. "Now, the stage is set for a more confident battle in other States including in Tripura, Meghalaya, Nagaland, and Karnataka and also Gujarat and Himachal Pradesh later this year," says one leader.
BJP's performance was truly commendable in Uttarakhand and Goa. In Uttarakhand, incumbent Chief Minister Pushkar Singh Dhami has had the last laugh. Dhami said, "There was a jinx that the BJP and Congress form governments alternatively. I have always said that all the myths are being demolished and new history is being created after PM Modi has come to power."
Goa Chief Minister Pramod Sawant won the election from his traditional Sanquelim seat. The saffron party managed to win 20 seats in the 40-member House and the vote share was over 33 per cent.
Why people voted for BJP?
Real MY Factor – Modi Yogi Factor, honesty, patriotism, dedication and hard work are the common features between Modi and Yogi. Beyond doubt Uttar Pradesh witnessed a huge positive change in past 5 years of BJP Government since 2017.
Law and Order- There is significant improvement in law-and-order situation. Yogi Government with iron fist has dealt with gangsters People, particularly women felt safer.
Welfare measures- BJP government implemented meticulously several welfare measures addressing the long-standing needs of poor. UP has 2.4 crore beneficiaries of PM kisan,1.5 crores of PM Ujwala, 7.8 crores of Jan Dhan accounts and 1.3 crores of Ayushman Bharath. Fourty two lakh houses were provided to poor. Nearly Rs.5 lakh crore was transferred to beneficiaries directly.
Infrastructure- A huge emphasis was given to improve infrastructure and several long-standing projects were completed at a faster pace
Development – All the above measures changed the perception from "State of Goonda Raj" to "Investment Hub". UP attracted over Rs.17.05 lakh crore investments in last 5 years. Ease of doing business improved from 17th position to 2nd. Its Economy now is second largest in country
Covid-19 management- Yogi Government tackled well the pandemic. The Government ensured proper health care with appropriate utilisation of resources. Ration of around Rs. 36,000 crores were delivered to door step of the poor.
Restoration of Glory of Sanathan Dharma- The only Government to respect feelings and worked to make true the dreams of people of UP and India. Ram Mandir in Ayodhya is finally being built. Kashi Vishwanth Temple corridor is rejuvenated.
Honesty- This is the first-time Government in UP world with utmost honesty uprooting corruption in all Government activities –Vinusha Reddy
The big takeaway from Goa was that the electorate has straightway rejected adventurism by Trinamool Congress and thus its vote share was 5.2 and it was far from opening its account.
Manipur Mandate Pushes for Naga Peace Pact
The BJP's comfortable win in Manipur without depending on allies like Naga People's Front (NPF) would make the sail easy for the saffron party. There will not be pressure tactics from Naga legislators and hence the saffron party and the Centre can take a decision on Naga issue completely on merits.
A major takeaway from this year's Manipur election is that while the Congress support has dwindled, everyone else including the BJP has benefited from that block of votes BJP's incumbent Chief Minister N Biren Singh has the 'image' of a 'doer' and a leader who struggled hard to present the 'Meitei perception' on the Naga issue to Home Minister Amit Shah in 2019.
This was in the context of Naga demand for 'Greater Nagaland'. All Meiteis worth their salt including Muslims are opposed to the disintegration of Manipur. So are tribal groups such as Kukis. All these have helped the saffron party. Previously Congress veteran Ibobi Singh was a champion of Meitei cause.
The former Chief Minister Ibobi contested this time too but the party's lackadaisical style of poll management and the campaign were never taken seriously by voters and ticket aspirants. Those declined tickets by the BJP rushed to Janata Dal(U) or NPP and hence the outcome where these two parties have done better than Congress is not surprising.
Out of all 60 seats for which trends are available, the BJP has won 23 and was leading in 9 more. The saffron party's vote share was 37.7 per cent – a significant jump from about 2 percent in 2012. That Congress is being virtually written off and its tally could come down to single-digit (four as of now) make it clear once again that the 'double engine' concept of Prime Minister Narendra Modi works best in Manipur.