The brutal murder of Bajrang Dal leader Harsha over his social media posts on hijab by a group of Islamist youth betrays the audacity of terror outfits like PFI and the level of radicalisation that has gripped the community. In the recent past, several Hindu activists have fallen victims to Islamist savagery in Karnataka. It's high time the government takes multi-pronged and stringent action to curb the scourge of Islamism
In a brutal and barbaric way, a Hindu activist was killed in Karnataka's Shivamogga district for speaking of his love for motherland and Dharma. The murder has created panic across the Southern State. Twenty eight-year-old Harsha was stabbed to death on February 20, 2022.
Lamenting the brutal murder of the only son in the family, Smt Padma, mother of Harsha, recalled the words of her son, "It is my Bharat, it is my Bharat. I have to protect it." The brave mother was proud of her son. Tears rolled down the cheeks of everyone, when the exasperated mother was crying her heart out. She wanted to know whether working for protecting Hindu Dharma is good or bad.
Meanwhile, the activist's sister, Ashwini, was deeply disturbed after receiving photos and videos from unknown mobile phone numbers of her brother lying dead in a pool of blood. "My brother, who always stood like a rock to protect the Hindu Dharma, is now in the cremation ground. Is this the brutal way a person should be killed? Aren't there any values for humanity?," Ashwini, overwhelmed by emotions, told reporters.
'My brother (Harsha), who always stood like a rock to protect the Hindu Dharma, is now in the cremation ground. Is this the brutal way a person should be killed? Aren't there any values for humanity?'

– Ashwini
Ashwini appealed to brothers and sisters of Muslims and Hindus to become good children of their parents and not indulge in criminal activities.
Muslims Getting Support from Anti-India Lobby
Expressing concern over the killing of the young Hindu activist, National president of Shri Ram Sene, Pramod Mutalik alleged that there was direct involvement of terrorist organisations in the crime.
"Bharat is a peace-loving country. It is unfortunate that Muslim fundamentalists are trying to convert our country into Taliban. BJP, when it was in opposition, had protested for banning SDPI, PFI, and CFI but now it is not taking steps to ban them while in power. The panic among Hindu activists is increasing all over the State as Muslim fundamentalists are getting support from the anti-India lobby," said the National president of Shri Ram Sene.
Meanwhile, Pramod Mutalik called on Karnataka Chief Minister Basavaraj Bommai and submitted a memorandum to ban SDPI, PFI, CFI, and other Muslim organisations.
The Karnataka Police has swung into action and arrested a few members of the Muslim organisations in connection with the murder case. It was shocking that all were teenagers.
"We have arrested Mohammed Kashif, Syed Nadeem, Ashifullah Khan, Rehan Khan, Nehal, and Abdul Afnan in connection with the case. All are aged between 20 and 22 years, except Kashif who is 32. They are all residents of Shivamogga. A manhunt has been launched to track other accused," revealed BM Lakshmi Prasad, Superintendent of Police.
Muslim Leaders Instigating Communal Violence
Meanwhile, Mohan Gowda, spokesperson of Hindu Janajagruthi Samiti, released a video demanding justice for Harsha. "The State of Karnataka has been targeted by Muslim fundamentalists. The threats and attacks on Hindu activists are increasing all over the State, especially after the much-publicised Hijab issue. The Muslim leaders are openly supporting the attacks by instigating communal violence. It is high time that the SDPI and PFI are banned," said Mohan Gowda.
NIT Probe Can Be Initiated
Describing the death of the Bajrang Dal activist in Shivamogga as a conspiracy, Bharatiya Janata Party's National General Secretary, CT Ravi, said that if necessary, the probe in the matter can be handed over to the National Investigation Team (NIT). Further, the BJP leader said, "Government should conduct a serious inquiry as the situation may trigger a reaction."
Mastermind Behind Killing of Hindu Leaders Nabbed
A few years ago, the Mysuru Police was finally able to arrest a notorious gangster, who was instrumental in killing RSS workers in Mysuru. Atheeq, who used to stay in Lashkar Mohalla in Mysuru, was known to execute murders leaving behind minimal clues. He had been giving the police a chase for the past 10 years. Atheeq was the mastermind in several murder cases.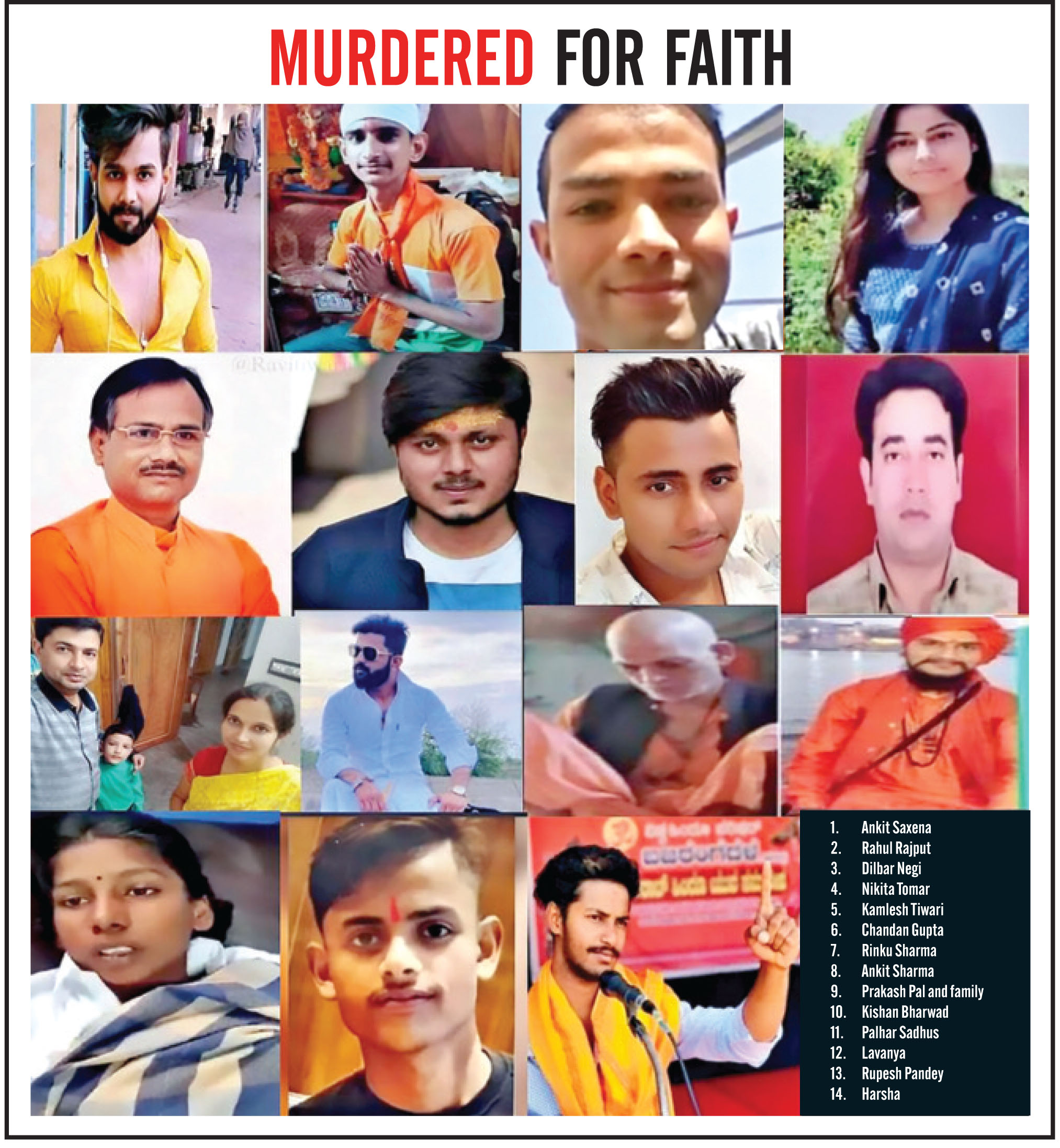 Atheeq's modus operandi can be seen from the fact that he had built his team of Muslim youth, who would carefully track the Hindu leaders. Their job was to kill Hindu leaders and create communal tension. His team's USP was that they would plan murder in such a way that they would escape from the crime scene leaving no clues. His name had cropped up in the murders of Hindu leaders like Shashi Kumar, Ramesh, Raju, and so on. Atheeq and his team had also tried to kill Ashok Pai and Giridhar, top Hindu leaders of Mysuru. Kyatamaranahalli Raju, a Rashtriya Swayamsevak Sangh (RSS) activist who was opposing the illegal construction of a mosque in a residential area in Mysuru, was brutally hacked to death in broad daylight by Atheeq and his team in 2016. The deceased was standing near a tea stall when five men hacked him to death with lethal weapons. Raju had united Hindus in various localities of Mysuru in creating awareness on the construction of an illegal mosque.
In 2018, Honnavar, a town in Karnataka, was tense following vandalisation of a temple and the breaking of the door of a house that belonged to a Hindu family. However, protection was not given as the entire police force was deputed to the program attended by the Chief Minister. The savage way in which Paresh had been tortured is beyond anybody's imagination. Hot oil was poured on him resulting in his entire body turning jet black. His hands (on which he has inscribed Jayarama) were chopped off. Paresh's body was found floating with his mouth gagged in a nearby temple pond (on December 8), two days after he was found missing.
'Ban Popular Front'
Vishwa Hindu Parishad (VHP) and Bajrang Dal activists on February 23 held a 'Mashal Rally' in Hyderabad in the memory of a Bajrang Dal worker who was murdered in Shivamogga by Muslim mob on February 20.
Calls to ban the Popular Front of India (PFI) and the Students' Islamic Movement of India (SIMI) were raised during the rally. The rally started from a VHP office in Koti, Hyderabad.
Mahesh Yadav, Bajrang Dal Hyderabad Co-Convenor, said such incidents are not new and have been taking place for a while. "We are giving a warning to Jihadis that we will not sit silent. We are holding a state-wide protest and demand that the culprits be hanged to death. The agitation would not stop till they are hanged to death. The way the army fights at the border for the country, we are fighting for our country and religion inside the country," he added.
"In two months, more than 20 workers have been killed, a priest has been killed, a lady worker has been killed as well. PFI and SIMI should be banned. Many belonging to PFI have come from Kerala to Karnataka. These attacks are not new to us," Yadi Reddy, State Secretary, VHP said.
A total of six people have been arrested, and 12 are being questioned by the state police in connection with Bajrang Dal activist Harsha murder case, said BM Laxmi Prasad, Superintendent of police, Shivamogga, on February 22.
"The six accused arrested in the case are Mohammed Kashif, Sayed Nadeem, Afsifullah Khan, Rehan Sharef, Nihan, and Abdul Afnan,' said Prasad.
Hindu activists Rudresh and Sharat Madivala were also killed in a brutal manner a few years ago. In 2017, a BJP councillor was brutally killed on the outskirts of Bengaluru. Srinivasa Prasad, who was popularly known as Kithaganahalli Vasu and a prominent Dalit face in the area, was brutally hacked to death with sharp weapons around 5 am.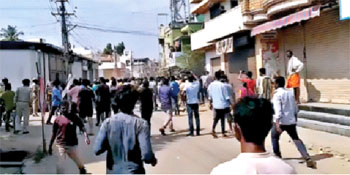 In another incident, a 38-year old RSS activist was attacked by miscreants, when he was on his way to the shakha in the heart of Bengaluru on June 11, 2016. Ramesh Vaishnav, Chikpet Nagar Sharirik Pramukh, was attacked when he was going for the morning Amar Prabhath Shaka. As a result, Ramesh sustained serious injuries and was immediately admitted to a local hospital as he was brutally attacked by a few unknown miscreants.
Harsha's murder is Kerala model of terror: Tejasvi Surya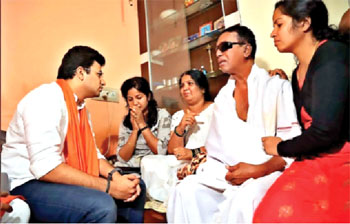 BJP Yuva Morcha President and MP Tejasvi Surya said the murder of Bajrang Dal activist Harsha on Sunday night was an act of the "Kerala model of terror". BJP MP Tejasvi Surya on February 22 met the family of 23-year-old Bajrang dal member who was killed over his posts in support of Hijab ban in educational institutions in the state. Surya said that the incident was a result of "growing Islamic fundamentalism in Karnataka". "This is Kerala model of terror that organisations like PFI, SDPI, CFI exported to Karnataka and other parts of the country," Tejasvi Surya said in Shivamogga. Surya further appealed the Chief Minister Basavaraj Bommai to slap terror charges against the accused
"I have requested Chief Minister and Shivamogga SP to not only register FIR u/s 302 IPC as murder but also register cases under UAPA and consider these as acts of terror," Surya said.
He also demanded that the incident should not be treated as an isolated individual case but an act of terror.
In another condemnable case, a Hindu activist was killed at Moodbidri (Karnataka) for championing the cause of anti-cow slaughter. Prashanth, 29, was selling flowers at Moodbidri Market when six persons came in two bikes and hacked him to death with sharp weapons on October 9, 2015. He was rushed to the hospital but couldn't survive. His family members claim that just before his death, Prashanth revealed important details about his killers to the cops.
Islamists pelted stones at Harsha's funeral
On February 21 the funeral procession of slain Harsha was attacked by Islamist miscreants when it was en route to the Rotary cemetery at Wdyanagar from the District McGann Hospital in Shivamogga.
As per reports, three people were injured after unidentified people pelted stones at the funeral procession. A cop, a photojournalist and two other persons including a woman sustained injuries during the attack.
In the video, shared by News9 reporter Priyanka Rudrappa shows people running to take cover as stones were hurled at the congregation. It is to be noted that the stone-pelting took place amidst heavy police security. The police informed that 20 vehicles were damaged and some of them were set on fire. The situation was brought under control and the procession could continue smoothly thereafter.
According to media reports, hundreds of people were gathered to accompany the body of Harsha, while it was being taken to his residence amid Police security after post-mortem.
An RSS activist, Kuttappa, was killed during the controversial Tipu Jayanti program at Madikeri. However, the police have failed to make any headway till now.