Swavalambi Bharat Abhiyan launched by RSS strongly advocates the operation of an economy based on the Indian model of development. The campaign believes that real development is not possible without employment, skilling and increasing the income of the poor
The problem of unemployment in India has become a serious issue in the last few decades. This problem can't be attributed to one of the Government policies; it's the cumulative effect of misdirected economic policies adopted by successive Governments in Independent India, first in the name of socialism and misdirected policy of globalisation and privatisation, later after 1991.
Today the need is to move forward towards a permanent solution to this problem instead of doing politics on this issue. Demographically, the country today is at such a stage that the percentage of youth in our population is very high. When the ratio of the dependent population to the working population is less, then such a situation is called a situation of demographic dividend. In the history of any country, a situation of such demographic dividend arises for a few decades, due to demographic transition leading to fast declining death rates, especially among infants and children below 5 years of age. That scenario initially gives rise to 'population explosion' and ultimately to 'demographic dividend' in the form of a greater number of youth, which we have today. We have the largest number of youth in the world and are called 'Youngistan' and rightly so.
It is believed that this situation in our country is going to remain till 2042. Today the youth population in the age group of 15 years to 29 years is more than 28 per cent of the total population. But if we are not able to utilise the talents and skills of these youths properly, then this demographic dividend will go waste.
If we look at the employment situation in our country, it is found that only 7-8 per cent of the people work in the so-called organised sector (i.e. Government and private corporate and enterprises and institutions maintaining books of account) and the remaining 92-93 per cent people are employed in the unorganised sector (agriculture, retail and wholesale trade, small and micro enterprises and other self-employed people, etc.). But whenever it comes to employment, most of the youth's attraction is towards jobs, and that too Government jobs or jobs in multinational companies and big corporations. Due to the paucity of jobs in this so-called organised sector, youths get frustrated, as they cannot fully use their talents and skills and are deprived of a decent living.
However, in post-Independent India, economic policies were designed in such a way that we never believed in the enterprise developed by our own people. In a way, we never believed in the capacity of Indian people in general and youth in particular. In the initial stages of planned development, emphasis was on the public sector, saying that the private sector neither has the capacity nor the resources to start an enterprise. For the small scale sector, though the Government protected from imports, hurdles continued in the form of a license-quota regime. During the new economic policy regime, the emphasis shifted to foreign capital, MNCs and imports as engines of growth. In a nutshell, we can say that in post-independent India, India's youth was never in focus, and policymakers didn't show any faith in the entrepreneurship skills and capacity of Indian youth.
If we really want to find a solution to unemployment in the country, we need to end this apathy towards the youth of this country and bring youth to the center of economic policy.
Why did employment decline?
Small traders, artisans and traditional businesses engaged in agriculture, small enterprises, retail and wholesale businesses were completely ignored during globalisation, privatisation (which remained confined to large corporate and multinational companies) and liberalisation (which focused on making business easier for large enterprises) under the new economic policy that has been going on for last more than the three decades. Due to the dumping of cheap goods by some countries (especially China) in India, manufacturing declined in the country, and many industries virtually collapsed. Some examples are active pharmaceutical ingredients (APIs), electronics, telecom, chemicals, toy, metal industries, etc. Significantly, there are more employment opportunities in manufacturing than in other sectors. It is believed that the capacity of employment generation in manufacturing is up to 6 times more than the services sector for the same unit of GDP.
In post-independent India, economic policies were designed in such a way that we never believed in the enterprise developed by our own people. In a way, we never believed in the capacity of Indian people in general and youth in particular. In the initial stages of planned development, emphasis was on the public sector, saying that the private sector neither has the capacity nor the resources to start an enterprise

The decline in manufacturing is actually causing the country's decline in employment. Therefore, manufacturing has to be encouraged in the country. This work can be done by encouraging domestic industries and discouraging imports.
Entrepreneurship development is the solution rather than seeking jobs
Organisations working in the economic field, including Swadeshi Jagran Manch, Bharatiya Mazdoor Sangh, Bharatiya Kisan Sangh, Laghu Udyog Bharati, Sahakar Bharati, Grahak Panchayat and Akhil Bharatiya Vidyarthi Parishad (ABVP) have decided to jointly run a nationwide Swavalambi Bharat Abhiyan, with Swadeshi Jagran Manch as a nodal organisation. This campaign will try to inculcate the spirit of entrepreneurship development among the youth instead of searching for jobs. For this, efforts will be made to create employment by stimulating the local economy and production. In this campaign, there will be coordinated efforts to build a system for marketing the goods produced by self-help groups, farmers, artisans etc. Many successful employment and income generation experiments are going on at different places, which can be replicated at other places. Similarly, many successful models of cooperatives have also emerged in many places. We need to learn from them. Young entrepreneurs and startups sometimes also require technical support, finance and marketing. Coordinated efforts have to be made for that also.
In order to encourage entrepreneurship among youth, inspirational programmes can be organised for school and college students, where youth can be encouraged by examples and success stories of entrepreneurs. New National Education Policy can also provide us avenues to interface students with the industry, thereby inspiring them to start their own enterprise. Youth can be motivated to become job providers instead of job seekers through all this. ABVP can easily do this work. On the other hand, solutions of marketing, finance and other types of problems can be found by forming cooperative societies in villages and cities with the help of Bhartiya Kisan Sangh and Sahakar Bharati. Apart from this, many types of ancillary activities can be promoted in rural areas, including growing various types of high-income crops, fisheries, poultry, animal husbandry, dairy, mushroom production, horticulture and floriculture. At the same time, with some effort, we can also work to promote skills of different types in village artisans and promote rural industries.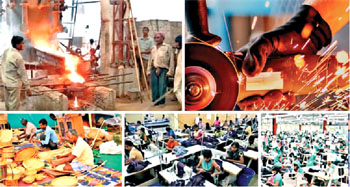 Many types of economic activities can be encouraged even in tribal areas, and for that, organisations like Vanvasi Kalyan Ashram can prove to be very useful because it has already been engaged in the field of education, health and other types of welfare activities in tribal areas for decades.
West-inspired model of development
India's economic system has never been GDP growth-centric. We have always had an integrated idea of production, employment and welfare of all. But unfortunately, influenced by the economic thinking of the West, our policymakers chose a model of development that was GDP centric. It was the thinking of Western thinkers that if GDP increases, then its benefits will accrue to the poor automatically, and employment, the income of the poor and their well-being will be made better. This was called the 'trickle-down effect'.
However, our country's efforts to increase GDP, inspired by the Western model of development, failed to bring desired results in employment generation, poverty alleviation and improving skilling. Former Prime Minister Manmohan Singh also conceded that our GDP growth had remained jobless growth. To avoid the political backlash of deteriorating economic condition of the poor, employment guarantee legislation, food security legislation etc. were resorted to. There were talks of providing a universal basic income, but no thought was given to change the model of development responsible for the deteriorating condition of the poor.
Swavalambi Bharat Abhiyan strongly advocates the operation of an economy based on the Indian model of development. The campaign believes that real development is not possible without employment, skilling and increasing the income of the poor. For that, along with GDP growth, we have to consider employment, environmental balance, and the common man's welfare, which is very much possible. It is true that today there is a need to revive manufacturing in the country, for which efforts will have to be made by the society along with the Government.
Manufacturing can be a game changer
Due to the obsession of policymakers towards globalisation, in the last almost three decades, there has been a significant decline in manufacturing in India. Alongside, a psyche has also developed that India can never compete with the world in the field of manufacturing, so we only need to concentrate on the service sector. We can import items from abroad for our requirements. There was also an attempt to develop the mindset that imports are necessary to increase domestic production and also to increase exports. Despite the widening of the trade deficit and the resulting increase in demand for foreign exchange and depreciation of the rupee, there has been no change in the thinking of our policymakers. But during the Corona period, when the international supply chain was disrupted, we had to depend on China to supply essential commodities, which was the main culprit. A new thinking of self-reliant India (AatmaNirbhar Bharat) and 'Vocal for Local' started taking shape. In those difficult times, India manufactured not only essential medicines, vaccines, PPE kits, ventilators and other medical equipment but also started intensive efforts to make India self-reliant in various fields. Sectors which have been affected due to the influx of imports in the last few years, such as API, Electronics, Textile & Apparel, Telecom, Chemicals etc. and other industries which India needs like semiconductor, solar panel, electric vehicles, efforts started to revive them, by increasing import duty, production linked incentives (PLIs) etc. The Government plans to spend around Rs 3 lakh crore on all these PLIs in the next few years. The implementation of the self-reliant India scheme by the Prime Minister and the slogan of 'Vocal for Local' is indeed infusing a new energy in these sectors.
To make these historic efforts successful, no stone should be left unturned. Taking the Government's plan to the entrepreneurs and youth, efforts of the society would be needed. There are nearly 700 industrial clusters in the country, many of which were facing the threat of extinction due to the onslaught of imports and non-conducive business atmosphere. Swavlambi Bharat Abhiyan can work towards the revival of these clusters through cluster studies to understand their issues and problems and address them through support, handholding, and policy interventions. District-level committees, which are being constituted with members from different walks of life, can take up this task in coordination with the State and national level committees. One district one product scheme in some States can work in this direction.
Employment with technology
The challenge before India today is not only to make up for its unsatisfactory performance in the first, second and third Industrial Revolutions but also to participate actively in the fourth Industrial Revolution. It is true that there can be some reduction in employment opportunities due to robotics, artificial intelligence, drones etc., but the same can be made up by creating jobs through the same by being a pioneer in these technologies in the world. However, we must not forget that due to new technology, cost also comes down.
For example, companies that use artificial intelligence, robots, drones, etc., reduce their cost. Those industries become more competitive in the market as costs come down, but the indiscriminate loss of employment in the name of new technology also cannot be justified. In such a situation, policymakers have to show utmost sensitivity and serious consideration to the selection of technology.