Vikramaditya Singh slammed Congress for denying Kashmir Pandits genocide, exodus and cited it as one of the reasons for quitting the party.
New Delhi: The crisis in Congress vis-à-vis the organisational weaknesses and challenge to 'Nehru-Gandhi dynasty' is far from over.
Eminent leader Karan Singh's son Vikramaditya Singh has quit the grand old party with a cautioning that if the leadership is not in sync with people's aspirations, especially the younger lot, the grand old party could "fade away".
"There are many accomplished Congress leaders in G-23; ignoring them is a big mistake. If you don't change with time, don't keep public and youth aspirations in mind, you will fade away," he said.
In reference to rebellion by a group of 23 leaders, he said, "If a group has emerged to give suggestions to high command, the party should cooperate."
In the context of the latest row following the release of the film 'The Kashmir Files' that portrays the true factors that led to the exodus of Kashmiri pandits, he said, "I have not watched the film 'The Kashmir Files'…but I was in Srinagar till 1989… It's sad that Congress is still in denial (about the exodus) and is not accepting the repercussions of the Kashmiri genocide."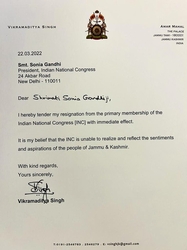 Vikramaditya Singh resigned from the party and said the party didn't reflect the sentiment and aspiration of the Jammu and Kashmir public (Photo Source: Twitter)
He said he had joined the Congress in 2018 with expectations that it will take steps on aspirations of the J&K public, but nothing much happened.
"I suggested organisational changes, but it was upsetting when I saw no changes even after two-three years," he said.
Vikramaditya Singh's Karan Singh was a Congress veteran. He was the prince regent of Jammu and Kashmir until 1952. From 1952 to 1965, he was the Sadr-i-Riyasat of Jammu and Kashmir.
The Congress crisis has deepened in recent times following poll debacle in states such as Punjab, Uttar Pradesh, Uttarakhand, Goa and Manipur. Its vote share dropped significantly in Uttar Pradesh, where Priyanka Gandhi Vadra led the fight.
In Punjab, Rahul Gandhi had banked heavily on cricketer-turned-politician Navjot Singh Sidhu, who had to face a humiliating loss in the election. Former Congress chief minister Charanjit Channi, a Dalit leader, also lost from his two contested seats.