There should be a concerted effort to counter Hindu phobia in academia. Recent videos of an IAS coaching centre show a dangerous trend of distorting Indian history to appease the minorities. Blatant disregard for historical facts to push anti-Hindu narrative will lead to widening of social fault lines
A video of a coaching institute named Vision IAS Academy has surfaced, in which the teachers of the institute have been seen ridiculing and taunting the Hindu community. Videos of teachers including Smriti Shah and Awadhesh Pratap Ojha (see box) have come to the fore, in which it has been said that Sanatan Dharma, which has been a part of human society since the beginning, is a 'cult' and the worship and rituals are all an unnecessary part of this 'cult'. On the other hand, Islam is said to be a religion of peace and harmony. Smriti Shah also told her students that the genocide of Kashmiri Hindus in the 1990s was completely legitimate, and while citing the example of Draupadi, said that brides are still 'purchased' in the state of Punjab-Haryana. What could be the reason other than misleading students? Why is an IAS coaching institute teaching these irrational and outrageous topics wrapped in lies?
The fault lies with the Indian school curriculum as well. Be it CBSE or ICSE, history books have complete details of the 300 years of the Mughal rule, whereas there is hardly any mention of many other great Hindu rulers and their dynasties. They are taught that Akbar was great but they are uninformed of the fact that he killed millions of Hindus. Tipu Sultan's sword is proudly shown to them, keeping them uninformed that he had forcibly converted 50,000 Hindus in one day and killed innocents with the same sword. Indian students may not remember the names of other great Hindu empires, but they remember the names of the Mughal rulers off their tongues.
Today we are paying the price of this mental slavery in a way, as is evident from the Hijab controversy. Many started coming forward for the violators of the uniform, but when a young man named Harsh got lynched for supporting the rules of uniform, everyone remained silent on his merciless murder. In the last two months, namely January and February alone, there have been many incidents where Muslim mobs have killed innocent Hindus. Many of those cases have been suppressed by the media. A lawyer from Gujarat gave a statement openly threatening Hindus, but social media intellectuals did not see any cruelty in that statement.
World was in darkness, Islam brought light, says IAS trainer
A video of an IAS trainer has gone viral in which he praises Islam for 'bringing light into the world of chaos. Following the controversy, a number of videos have surfaced on the internet that makes controversial statements against other religions too.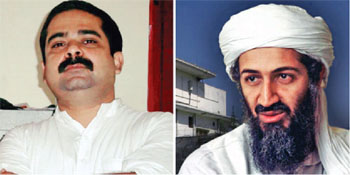 In one of the videos, we can hear Awadhesh Pratap (in pic: left), popularly known as Ojha Sir, of IQRA IAS, a Maharashtra-based IAS training institute, asking the students to read about the history of Islam. "There was darkness all over. Women were being burnt in Europe in the name of witch-hunting. In India, there was Sati Pratha. Girls were being killed in China. There was darkness all over, and amidst the darkness, Mohammad Saheb was standing with a lamp in his hand, Islam… Love… Message."
In another video, he called the 9/11 attack an achievement for Al-Qaeda terrorist Osama Bin Laden. He said, "Osama Bin Laden knew whom he had to fight. He attacked America and demolished the Twin Towers. The world came to know his name. He slapped the United States of America in its home. It is an achievement. He only attacked once. This is called a dream. It does not matter the American forces picked him up from Abbottabad."
The teacher's statements have evoked strong reaction from various quarters demanding strict action against him. —Organiser Bureau
It's widely known how a student named Lavanya committed suicide due to the pressure and torture by Christian missionaries for conversion. But there are many such Lavanyas present in the country who are forced for conversion. Many well-known Indian feminists of the country speak openly on general atrocities on a woman, however, they do not raise their voice when a criminal belongs to a particular community other than Hindus. News channels are also not behind in this game. It has become their daily job to show the names of minority criminals by converting them to the name of majority religions to hide the racial nature of the crime. Whether it is a Hindu festival or a Hindu dress, something or the other is said against all of them. However, the problem is not with any particular religion but with the silence, when injustice is done to any religion.
This deceit has been going on for so long that the youth of the country today is insulting their culture and glorifying their enemies. Today, in India, the IAS aspirants are comparing religions, instead of taking lessons to pursue their goal or focusing on the journey of becoming an IAS. How can the country be safe in the hands of such youth, who make fun of the original history of India, after taking incomplete knowledge listening to the stories written with the ink of lies? We need people who make fair decisions and make this country proud, not weak. We don't need media professionals who hide the mistakes of a particular community and continue appeasement of the minorities. It is expected from the government that necessary changes should be made in the curriculum of history and truth should be taught in the future.