Vivek Agnihotri's sensitive film The Kashmir Files takes viewers inside the world of Kashmiri Hindus, who have faced brutal atrocities even as they have struggled to get justice for the genocide inflicted upon them. Viewers will feel resentful towards separatists like Yasin Malik and Syed Ali Shah Geelani, who have got support from intellectuals and local politicians
The Kashmir Files is the story of Pushker Nath Pandit (Anupam Kher) and his family. It is the story of rotting hope, hopeless system, the fight for one's dignity and the cycle of deceit at the same time. It is the clearest mirror of our misfortunes, shards of the glass that still haven't come off from skin. It is pain in its rawest form because it is a film that's been closest to the truth, unlike any other from the past. None of the deaths were fictional, none of the tragedies coincidental, none of the wounds exaggerated or underrepresented. It is about that naked truth, that no one liked to talk about in these many years.
"Spread my ashes in my lost home in Kashmir," Anupam Kher, who plays the internally displaced Pushkarnath Pandit, says on his deathbed of his grandson, Krishna, a college student. And thus begins the protagonist's odyssey into the most vehemently denied truth of independent India.
Pushkarnath wanted his four old friends to be present at his funeral ceremony. Thirty years after Pushkarnath's exodus, they reassemble – DGP Hari Narain, journalist Vishnu Ram and Doctor Mahesh, at the house of Retd. Divisional Commissioner of Kashmir Brahma Dutt (Mithun Chakraborty). Together, they represent the various arms of the Indian State. As their conversation stretches late into the night, Krishna discovers that their role as protectors was limited to serving the 'blue pill' (a concept made popular by the 1999 film Matrix; while a red pill symbolises critical thinking, a blue pill allows one to stay content in ignorance) to the Indian inhabitants of the Kashmir.
Professor Radhika Menon (played by Pallavi Joshi), a most lethal groomer, wants Krishna to run for the post of university student association president so that he can support the calls of Kashmiri separatists. Having a Kashmiri Pandit boy speaking about his trip to attend the cremation of his grandfather and, at the same time, being a voice of 'blameless' terrorists would be a coup for Menon's crowd.
The stories of Muslim neighbours turning on their Hindu neighbours are so common from the Valley that they have become trivial. Until you see the particular scene in the film which shows this deceit, it leaves you with stunned silence. The scene is brutal on so many levels that it becomes difficult to accept the fact that this actually had happened. Islamists chanted 'Ralive, tsalive, galive' 'convert (to Islam), run or die' on the streets of Kashmir. They announced these from the loudspeakers of the mosques, asking Kashmiri Hindu men to leave the Valley, leaving behind their women so that they can finally have their 'azaadi' (freedom).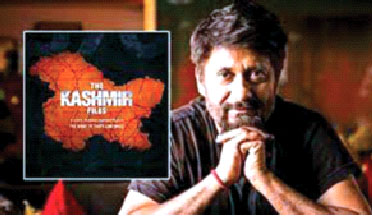 The Kashmir Files is the first film of its kind, in the history of cinema in any part of the world, where a film is made on video testimonials of the first generation victims of Kashmir genocide. Their true stories are woven into one timeline. This film is being supported by 36 multi ethnicity organisations. This film is not just a feature film, today it has become a soft power, it has become a diplomatic tool for India to show to the world that how Kashmir genocide was covered by International media

– Vivek Agnihotri
And Mithun Chakraborty very correctly said in the film that 'Azaadi' is the song of terrorism.
Even then, there are people who believe there was no exodus, that there was no genocide, that Kashmiri Hindus were not forced out of their homes but they left at their own free will. Many have 'justified' the exodus claiming how the 'monopoly' of Kashmiri Hindus in Government jobs irked the Muslims who were 'oppressed' and hence they picked up arms. In 32 years, we haven't quite heard of the Kashmiri Hindus picking up arms despite having survived rapes, witnessing murders, living in absolute poverty after being driven away from homes and countless cruelty inflicted upon them by Islamists. Still, it took us 32 years to know the visual version of this story, because no one dared to show this earlier.
The fact that Pallavi Joshi and Vivek Agnihotri spent four years to make the film, with such extensive detailed research of close to 700 hard-hitting interviews that are testimonials from first-generation victims of the genocide of the Kashmiri Pandit community in the 1990s is in itself not a small feat.
Speaking exclusively to Organiser, Vivek Agnihotri, Director, Producer and writer of The Kashmir Files, said, "The Kashmir Files is the first film of its kind, in the history of cinema in any part of the world, where a film is made on video testimonials of the first generation victims of Kashmir genocide. Their true stories are woven into one timeline. After seeing this film, the US Congressmen invited us for a Congressional reception at the Capitol Hill. It was invited by the Harvard Club. It was invited by the top most universities of the world. Everybody should feel proud that finally, what the Indian Government could not do in 70 years, was done by a film. All the Congressmen and senators actually acknowledged that it was indeed a genocide. On January 26 this year, on Republic Day, the film's ad was displayed at the world's most prestigious site The Times Square in New York. This film is being supported by 36 multi ethnicity organisations. This film is not just a feature film, today it has become a soft power. It has become a diplomatic tool for India to show to the world how Kashmir genocide was covered by international media."
These are stories that need to be told and, for many soft separatists, it may be a hard pill to swallow. Think about it for a second, if there have been such brutal atrocities that the Kashmiri Hindus have gone through, would you not keep your political leanings aside for the sake of humanity and hope for some closure for the first generation victims in their right to justice? The film not only makes you feel resentful as to why a Yasin Malik and Syed Ali Shah Geelani were allowed to get tacit support from politicians and intellectuals like Arundhati Roy but also gives your brain the much required storming session, that leaves you with endless questions as well.
Why those intellectuals who constantly bat for the 'azadi' of Kashmir and call it 'fundamentally a call for justice' don't see the other side of the rightful occupants of the land being forced into mass departure when that is their land and that is their country their home. Three odd hours of encapsulation of that trauma is spine chilling. It makes you rethink why farcical negotiations were even on the table when Farooq Ahmed Dar alias Bitta Karate (whose character is played well by Chinmay Mandlekar) has openly confessed to killing Kashmiri Hindus? Why the conviction rate is so low and why was he never sent to the gallows or even given life imprisonment? The Kashmiri Pandits' betrayal is evidently well documented in this film and makes you ask this question, why is Farooq Ahmed Dar, the self- admitted butcher of Kashmiri Pandits, still roaming scot-free?
The Kashmir Files will reignite the debates that have bedevilled India since its birth. It forces us to question India's self-destructive relationship with Pakistan, the unstable tolerance between Hindus and Muslims, the failure of the Indian State in protecting and granting justice for the rarest of crimes and the sordid contribution of Indian media towards informed Indian polity. It takes an extraordinary level of courage to tackle the subject of the Kashmiri Pandits' genocide, and Vivek Agnihotri has handled that challenge well, without taking the easy way out. For the Kashmiri Pandit community, the movie gives hope for justice. The global Kashmiri Pandit community's support for the movie over the past two years has found a faithful and honest expression, without any whitewashing.
Anupam Kher, whose family itself being a victim of Kashmiri Pandits' exodus, has given a terrific performance. His real pain was real on the screen as well. He actually left no stone unturned to reveal what all must have been in his aching heart for so many years. Pallavi Joshi has been exceptionally good, and could deliver her character with all required emotions. Bhasha Sumbli, Darshan Kumaar and Chinmay Mandlekar deserve special mention for their outstanding performances. Mithun Chakraborty was convincing and fabulous as always.
The Kashmir Files opens up your eyes to stories that were untold – the separatist sympathising politicians, the impact of religious extremism, a press that ignored the harsh reality on the ground and shows how there was a glorification of terrorists as some kind of revolutionaries. And the film shows you true, real facts on how, despite this subjugation and bloodshed, the Kashmiri Pandits did not pick up arms. It is heartwarming as the film makes a conspicuous effort to highlight that fact.
A must watch cinematic brilliance for every Indian, to know the real history of our nation.