While major nations, including the US, China and The UK, have left their citizens trapped in war-torn Ukraine in the lurch, Bharat took up the challenge of evacuating about 20,000 nationals from the jaws of death and destruction through 'Operation Ganga', driving home the message that every Bharatiya's life counts
"Life of every Indian is precious. Entire Government machinery is working round the clock to ensure the safety and security of all Indians in Ukraine"
–PM Narendra Modi
The Narendra Modi Government has ensured the safety of Indians trapped anywhere in the world, anytime and under any circumstances. Thereby, Union Government has attained the expertise and mastered the nuances of evacuating Indians from conflict areas. It achieved this through the fine balancing of relations internationally with various countries, establishing the firm position of India globally, and optimum utilisation of all available resources.
The Russia-Ukraine War
The tragedy of war is that it uses man's best to do man's worst. The war that started on February 24, 2022, between Russia and Ukraine has resulted in a lot of collateral damage. Within a few days, several lakhs of people are facing an unprecedented grave situation in Ukraine, including the people of this Eastern European country and other countries. People in Ukraine are facing a tough and scary situation; unable to have easy access to transport, daily essentials, and even food in some places. Air and land routes have been under siege, Ukrainian air space was closed since February 24, 2022.
Frustrated Media Outlets Peddle Fake News
Even as the Narendra Modi Government has been pro-actively undertaking a massive evacuation exercise, certain media outlets, Left-Liberals and Islamists have been peddling fake news to manufacture outrage. A journalist associated with a Left propaganda portal had sent WhatsApp messages requesting students to give statements that would show the Government's evacuation efforts in poor light. Similarly, a group of students coming from Kerala also gave alarmist statements. Some supporters of Jamaat-e-Islami claimed they were "forced to display Tricolour" on their bus.
Media outlets like NDTV, etc., also did their best to push a narrative that the Government had failed in evacuation, although only India had undertaken such a measure. NDTV editors have been caught spreading fake and misleading news on several occasions, shared an old video claiming it to be from Ukraine. In the video, a young girl could be seen opposing troops. NDTV shared the video claiming a Ukrainian girl is stopping an advancing Army. Congress leader Mohammed Zoya Khan shared the video. It was later revealed that the video was ten years old and was from Palestine. The young girl in the picture is Ahed Tamimi, protesting against Israeli forces in the West Bank.
In another misleading news, NDTV interviewed one medical student, Shubhanshu, who had returned from Ukraine on Tuesday (March 1). On arrival in Delhi, Shubhanshu told the channel that the situation was like hell in Ukraine, but once the Indian Embassy took charge of their evacuation, the facilities provided by the Indian Embassy were like a five-star hotel. In the telecast, NDTV was caught peddling lies when it ran the ticker 'It was like hell', giving the impression that the arrangements made by the Indian Embassy were like hell.
Not content with this, NDTV interviewed some students, spreading the news that the Union Government was not doing anything for their evacuation and was least worried about their well-being. NDTV Executive Editor Vishnu Som had himself interviewed one student who had expressed her view that there was no need to leave Ukraine. To facilitate the easy travel of passengers heading back home from Ukraine, the Union Government removed the cap on passengers under Air Bubble Arrangement on February 16. Following up on it, Air India announced special flights on February 22, 24 and 26. On February 20, considering the lukewarm response from the Indian nationals in Ukraine, Air India considered postponing flights. The very same day, the Indian Embassy again issued an advisory. On February 22, the Indian Embassy again issued advisory requesting Indian students to return to India quickly. On February 24, the Indian Embassy issued a fifth advisory, updating the Indian nationals about the steps taken to ensure their safety.
Ukraine has around 80,000 foreign nationals. All of them are also facing dire consequences. Allegedly international citizens are facing hostility from local Ukrainians. Allegedly in some places, Ukraine was not allowing Indian citizens to cross the border or providing basic needs and food. Various countries have adopted different mechanisms to help their respective citizens.
Left in the Lurch
The US, the UK, China, and Germany have declared that the conditions in Ukraine are too precarious and unsafe to undertake evacuation of their citizens. China has issued no travel advisories, no support measures, and no contact numbers. It citizens were advised not to display Chinese flags. China requested citizens not to enter any altercation with local Ukrainians after claims of rising hostility towards Chinese citizens. The US asked its citizens to follow Ukraine's advisories and remain cautious about active combat, crime, and civil unrest. The US asked its citizens to depart from Ukraine using commercial or privately-owned transport means. British nationals were told not to expect consular support. The British Embassy office in Kyiv was relocated to Lviv. The German Embassy in Kyiv was closed. Germany requested its citizens to leave Ukraine.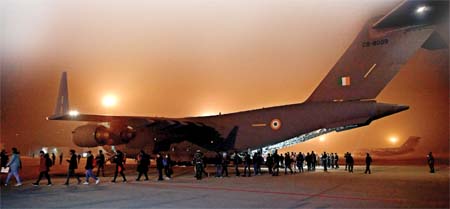 What India is doing?
India gave utmost priority to the safety of more than 16,000 Indian citizens in Ukraine. The Modi Government in every possible way is and was trying to assist Indian citizens.
India took several supportive measures to help Indian citizens in Ukraine
PM Modi has spoken with Russian President Vladimir Putin regarding safe passage of Indians
India has been at the forefront in issuing advisories from the beginning. Suspecting escalation of events between Russian and Ukraine, Indian Government on February 15th itself issued an advisory to Indians to evacuate Ukraine. Most Indians followed the advice and returned to India. Rest believed in assurances of the Ukraine Government and stayed back
Indian Embassy issued advisories to Indian citizens regularly. The Government arranged helpline contact numbers and mail IDs for stranded citizens
The Modi Government undertook "Operation Ganga" to evacuate Indian citizens from Ukraine even under such unsafe and hostile circumstances
The Central Government has coordinated with States regarding the details of Indian nationals residing in Ukraine
India has spoken with border countries and issued advisories to Indian nationals to arrive at border countries like Romania, Hungary, Poland, and Slovakia. Buses carrying Indian nationals holding Indian flags were safely allowed to cross border. From these countries, Indian citizens were airlifted to India using Air India airplanes
Private aircraft companies like Spice Jet, Indigo and Air India Express have also become a part of Operation Ganga and sent airplanes to Budapest and Bucharest
By March 3, more than 5000 Indians were airlifted from Ukraine to India
While rest of the superpowers denied evacuation measures due to unsafe circumstances in Ukraine, the Modi Government on February 28, 2022 decided to send four top Union ministers to countries bordering Ukraine to coordinate better evacuation of Indian nationals from war-torn Ukraine. Shri Jyotiraditya Scindia in Romania and Maldova, Shri Kiren Rijjiju in Slovakia, Shri Hardeep Singh Puri in Hungary and Shri Gen V K Singh in Poland shall supervise the evacuation of Indian nationals
On March 1, 2022 PM Narendra Modi called on the Indian Airforce to become part of Operation Ganga for faster evacuation of Indian citizens from Ukraine
The entire cost of the evacuation process is borne by the Indian Government. Each flight costs over Rs 1.1 crore per trip
Tough global Evacuations of Indians by Modi Government
Vande Bharat Mission was one of largest civilian evacuations by any country. When international flights were halted due to covid-19 pandemic, Indian Government arranged repatriation of flights globally, evacuating 18 lakh Indians in 15 phases over 11 days between May 7 and May 17, 2020
Operation Maitri: Five thousand Indians were rescued from Nepal after the earthquake erupted in April 2015
Operation Rahat: More than 4,500 Indians and 960 foreigners evacuated from Yemen in June 2015
Operation Devishakti: In August 2021 over 800 people including 260 Indians were rescued from Taliban captured Afghanistan.
In June 2014, 46 Indian nurses were rescued from ISIS captivity in Iraq
Exfiltration of CRPF contingent from Libya in 2019
Operation Ganga
Undoubtedly, India is relentlessly using all possible best measures to help Indian nationals stranded in Ukraine. Politicisation of such a grave crisis is cheap and unwarranted. Global powers have backed off from the evacuation process. But the Indian Government has put every effort with all available means to take care of the safety of Indians in Russia-Ukraine war. The intent of the Modi Government is sincere and is for a good cause. Bad situations have to be faced with courage and commitment. That is exactly what the Modi Government is doing with Operation Ganga. The intent being "Every Indian daughter and son shall come home safe from Ukraine"