IAF will participate in a multi-nation air exercise named 'Ex Cobra Warrior 22' at Waddington, the UK, from March 6 to 27, 2022. LCA Tejas will participate in the exercise along with fighter aircraft of the UK and other leading Air Forces. The exercise is aimed at providing operational exposure and sharing best practices amongst the participating Air Forces, thereby enhancing combat capability and forging bonds of friendship. This will be a platform for LCA Tejas to demonstrate its manoeuvrability and operational capability.
JOINT SECURITY EXERCISE AT PORT BLAIR AIRFIELD
Andaman & Nicobar Command conducted a joint security exercise at Port Blair airfield on February 16, 2022. Day and night drills were conducted at INS Utkrosh and Veer Savarkar International Airport. Quick Reaction Teams from the Army, Navy and CISF were deployed to counter portrayed terrorist threats at various places inside the airfield. Simultaneously, Special Forces elements from the NSG, Ghatak Platoons and Marine Commandos (MARCOS) were also mobilised for synchronised operation along with the Quick Reaction Teams.
INDIAN NAVY RECEIVES 10TH P-8I MARITIME PATROL AIRCRAFT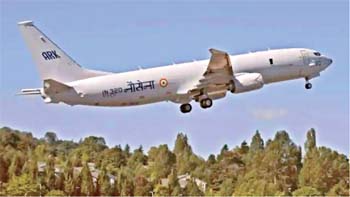 Indian Navy received its 10th P 8I anti-submarine warfare and maritime patrol aircraft this week. India had initially signed a contract for eight P-8I aircraft in 2009 for the Indian Navy. It later signed another contract for four additional P-8I aircraft in 2016.