A Sri Lankan Armed Forces delegation paid a three-day visit to India as part of Army to Army Staff Talks (AAST) from February 10 to 12, 2022. The AAST aims to foster better coordination between the two militaries. During the AAST, both countries discussed agenda points focusing on key issues related to training, the conduct of bilateral and multilateral exercises, enhancing relations in fields of arts, sports & cultural exchanges. The visiting delegation visited the Military Institute of Technology, National Defence Academy, and College of Military Engineering and interacted with the Commandant and faculty on the training methodology and best practices.
US NAVY DELEGATION VISITS HQWNC AT MUMBAI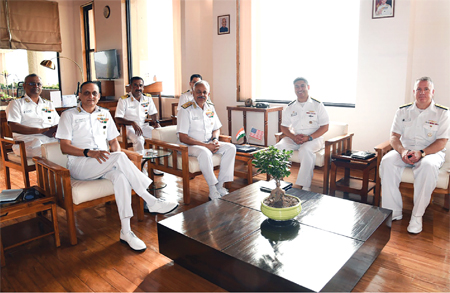 A ten-member US Navy delegation led by Rear Admiral Leonard C 'Butch' Dollaga, Commander Submarine Group 7, visited Headquarters, Western Naval Command this week and discussed matters of relevance to the maritime domain with special emphasis on the growing cooperation between the two navies. This visit of the US Navy delegation was part of follow-up activities linked to the Basic Exchange and Cooperation Agreement (BECA) discussions held in October 2020, wherein a consensus was reached to explore cooperation in the field of Underwater Domain Awareness (UDA) with a formal agreement between the two sides.