Transcending the man-woman difference is the crux of Indian thought on femineity. Biological difference or sex is a creation of nature. When one ascends the steps of spirituality, he or she has to transcend the limits of feminine and masculine existence and attain a real gender-neutral state
For the feminists across the world, cracking gender differences had remained an extreme puzzle, but India had answered long back. The Mahabharata tells the story of Rishi Suka, the son of Veda Vyasa, to explain gender consciousness. Once Suka was going through a forest area, he was followed at a distance by father Vyasa. Suka passed past a pond where apsaras (celestial damsels) were bathing naked. But apsaras did not cover their bodies seeing young man Suka. But when old man Vyasa passed past the pond, all of them felt shy and quickly covered their bodies. Vyasa was astonished and asked why they felt ashamed seeing him. They explained that Suka is beyond stree-purusha bheda bhava (beyond differentiation between woman and man), and he is a Samadrik or Samadarshi. However, but Vyasa had not so far transcended the stage of difference and attained that level! This is how the subject of overcoming gender consciousness is explained.
Psychology of Differentiating between Gender and Sex
From the 1970s, feminists started looking at gender and sex as two different aspects. The word "sex" indicates the physical difference between males and females naturally from birth. This biological difference is a phenomenon in nature. Sex is a biological construct, but gender is social and cultural. American Anthropologist writer Gayle Rubin says there are only "male and female" among animals and not "man and woman". Kate Millett points out that through gender, the relationship of surrender and authority is established in sexual politics.
Feminists say from childhood, the woman is trained how to live in a world created for men. Gender is thrust upon during the stages of a child's development. The man-woman difference is settled in the personality slowly socially, culturally, and psychologically. This is what is indicated by the term "gender".
Women's liberationists propose gender struggle in the place of class struggle. But Marxists everywhere contradicted this by saying the women's movement has to work for the working-class struggle against the capitalist system, not for gender struggle. Leftists accused that anyone talking about separate gender struggles creates division among the economic class and is joining the capitalist framework
Simone De Beauvoir, life partner of Jean-Paul Sartre, explaining the psychological making of a woman. She famously said, "One is not born, but rather becomes, a woman," i.e., one is trained to become a woman from childhood. This process of "becoming a woman" is during the adolescent period when a woman is trained to the maximum. In a man's world, the growing girl realises that she is no more than mere "flesh", which Beauvoir terms as the process of "becoming flesh".
Inside the family, moulding boys and girls as men and women are completed. By about two to three years, a girl child recognises that her gender is not equal to that of a boy; her mental makeup changes according to her gender. Parents are anxious to train girl child from early days in household duties like kitchen work, floor cleaning, cleaning the house, childcare, cooking, washing plates, and clothes, etc. It is a part of the gender division of labour and education. This is how a gender mindset is formed, and a female becomes a woman.
Many feminist theoreticians used Freud's theory of "Androgyny" to explain the phenomenon of "gender". According to the theory, every person naturally by birth has both male and female characteristics. There is a woman (anima) in every man, and in every woman, there is a man (animus). Only later, one acquires gender characteristics by rejecting one and accepting the other. Freud found that man naturally rejects his feminine characteristics and acquires manliness. Similarly, woman suppresses their manly characteristics and confines to womanhood.
Communists against Women's Liberation
Women's liberationists propose gender struggle in the place of class struggle. But Marxists everywhere contradicted this by saying the women's movement has to work for the working-class struggle against the capitalist system, not for gender struggle. Leftists accused that anyone talking about separate gender struggles creates division among the economic class and is joining the capitalist framework. Women cannot by themselves become a separate class. This is the politics of the Leftist woman movement, even in India.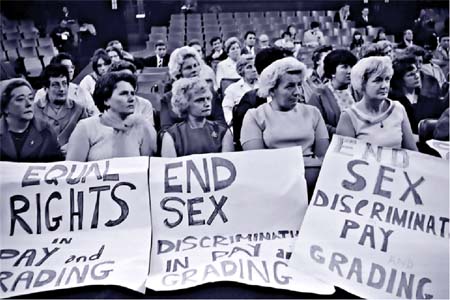 Similarly, in western feminism, many believe that different streams like black feminism, African feminism, third-world feminism, etc., create division among the mainstream feminist movement.
Overcoming Gender, the Western Way
Westerners discovered very late that the roots of gender inequality lie in gender consciousness. But till today, they have not found any way to eradicate gender feelings. Simon De Beauvoir proposed that the loss of a woman's independent individuality through gender is to be prevented. Many a time, gender equality is wrongly tried to be achieved through attempts to eliminate against nature the external or physical differences between man and woman. They thought the woman should try to imitate the man in her attire, look, and other physical aspects. This again arises out of the feeling that man is superior. Feminism displayed the other extreme also. It emerged as a reaction to male domination in the Semitic culture. Hence gender politics of feminists are also extremely anti-male. US psychologist Sandra Bem proposed that by psychologically acquiring an androgyny personality, one can transcend gender.
The Indian Way of Transcending Gender
The Indian way to gender equality is, transcending the feeling of difference that creates gender. Transcending the man-woman difference (stree purush bhed bhav) is the crux of Indian thought on femineity. Once 'bhed bhav' is gone, discrimination also will disappear. Biological difference or sex is a creation of nature. The cause of gender difference is the consciousness that "I am man, I am woman". Indian spirituality teaches how to transcend it. When one ascends the steps of spirituality, he or she has to transcend the limits of feminine and masculine existence and attain a real gender-neutral state.
Again, an incident in the life of Meera Bai also explains the Indian approach to gender feeling. Meera Bai once went to a temple where women were not allowed. When the priest prevented her, Meera Bai asked him, how then you dare to enter? The priest answered he was a purush (man). But Meera Bai said there is only one purush – 'Param Purush!'. Kalidasa in the Kumara Sambhava says about Shiva that good people have no distinction between women and men. Similarly, Shri Ramakrishna was told by his Guru Totapuri: "Real Brahma jnaanis cannot think about the difference between man and women. They have the unity feeling above differential sense." Indian concept is that the Atman is beyond gender and becomes man and woman when interacting with the body and mind.
Indian spirituality going further deep also proposes gender difference as an illusion or "Maya" (Delusion) for the ignorant. In Brihadaranyaka Upanishad, Yajnavalkya says to Janaka that the deva of the right eye is Indra and that of the left eye is Indrani, Indra's wife. Only in the jagrat state do they appear as separate. In svapna, sushupti and turiyam, they remain as one. In the Devi Bhagavata, Vishnu says to Narada that everything is Maya, including man-woman difference. But Narada did not believe it and demanded to prove it. Then Vishnu asked Narada to follow him to Kanya kubja where they reached the shores of a big lake. Then Vishnu asked Narada to dip in the lake water. When he immersed himself and got out of it, Narada became a beautiful girl and forgot that she was really Narada. At that time, King Thaladhvaja came on the way. He fell in love with the beautiful girl and married her. They had several children, but in a fierce war, all of them died. The girl was very unhappy and cried, calling Vishnu. Vishnu appeared in the form of an old lady and advised her to immerse in the same lake. When she got immersed and came out, it was original Narada. Then Narada realised that his form and mentality as a girl was only because of Maya. When Maya was removed, he could transcend gender consciousness. Among Buddhists, anyone devoid of gender discrimination can try for Moksha independently.
Two Equal Parts of the Reality
Rt. Rev. Richard Harries, the Anglican Bishop of Oxford, criticised the Christian notion that God is a man in his book, God outside the box since it is an outdated and chauvinist view. He proposed the Indian view that God is "beyond gender". Indian God or Ultimate reality is gender-neutral or impersonal, signifying divine existence and not a divine individual. Vedas and Upanishads describe God as Gender Neutral or both man and woman. Vivekananda made it clear that in the highest Parabrahma truth, there will not be a gender difference. The same Atman becomes a man or woman. Swami Vivekananda says: "There is no sex distinction in Atman; it vanishes on spiritual realisation." The sexless Supreme Being is both the father and mother of the universe right from Vedic times. Sex belongs to the body, and Atman is sexless.
Gender equality attains its perfection in the Indian concept of woman. Women and men are two equal manifestations of God. Right from the Rig Vedic times, it is considered that God appeared as two in man and woman. Prajapati divided his own body into two, a woman and man, and from them were the rest of humanity created. Yajnavalkya says in the Brihadaranyaka Upanishad that the divine Brahma divided the body into two to become husband and wife. These bodies are two equal portions of the same Brahma, like the two halves of a split pea. From the combination, humans were born. The beautiful simile of a split pea in the Upanishad indicates the complementarity of man and woman. Devi Bhagavatam said when the primordial Divine Power had a "wish", it got divided into two equal beings, woman and man. They are further subdivided. This Indian idea of genesis is repeated in many Sanskrit works of literature. The natural corollary of this is that unity of woman and man is equal to creating the Divine presence.
The characteristic of Indian gender equality is complementarity. Swami Ranganathananda says in his book, Women in the modern age, inter-dependence is the law of nature, not indifferent independence. Both are mutually dependent on many counts.
The Concept of Siva and Shakti or Man Woman Continuum
Indian scriptures say that it is the man-woman continuum that makes life successful. This continues through different stages of one's life till Vanaprastha and Sannyasa. As per Tantra Sasthra, Siva and Sakthi are one and not different. Both cannot be separated. Siva says to Parvati that he is what Parvati is, and there is no difference between them.
Sankhya philosophy says the universe is a mix of prakriti and purusha. Without Prakriti, Paramatma cannot do anything. The union of Prakruti with Purusha at the highest level leads to the freedom of the soul from attachment. Sankara says the entire universe is Shiva and Shakti together. Sri Chakra is the body of Siva and Sakthi together. They are also two facets of "Chiti", the prime principle. In Kundalini Yoga, Para Sakthi rests in the Mul adhara of Kundalini. It is woken up and rises the six steps to unite it with Parama Siva at the Sahasrara Padma. Saundarya Lahari also says this. The concept of Ardha-naari-eswara is gender equality given divine status. It is symbolic that every human being is a combination of femininity and masculinity.
Arunachal Girl becomes first Indian female athlete to win the medal at World Taekwondo G2 event
Rupa Bayor from Upper Subansiri district of Arunachal Pradesh has brought laurels to the State and the country by winning a bronze medal in the female senior 1 Poomsae event at the 8th Croatia Open International Taekwondo Championships. She became the first Indian female athlete to win any medal at a G2 event of World Taekwondo (WT). She also bagged a silver medal in the senior pair Poomsae division by teaming with another Indian player, Rahul Jain.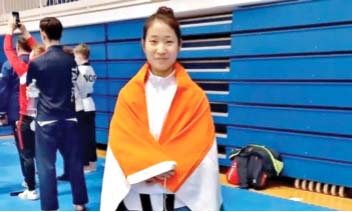 "I am happy playing at my first WT G2 event and starting with a bronze and silver medal," Rupa Bayor, who hails from Sippi village in Upper Subansiri district, said. "I am sure of improving my medal colour to gold at the Canada Open and World and Asian Championships," reports Echo of Arunachal.
"Rupa has been a find for taekwondo in India and is a clear potential for India at the upcoming Asians Games and World Championship. We all are proud of what she has done in Croatia and are sure she will be dominating the International circuit sooner than later if our federations, sports ministry and other stakeholders continue their support," her coach Abhishek Dubey said.
Earlier in 2019, Rupa won a silver medal at the 13th South Asian Games held in Kathmandu, Nepal. Meanwhile, the Arunachal Taekwondo Association has extended its hearty congratulations to Rupa Bayor on her great achievement in such a high-level event and making the state and country proud. The Association wished her all the best for her future endeavours.
India for Gender Equality
Bharat had given much importance to and developed a 'Gender Jurisprudence'. The wayout for dowry-related issues will be easy if we look to our ancient seers, who clearly laid down the great principles of gender jurisprudence. At the mental, intellectual and spiritual levels, men and women are equal. The feeling of gender equality has to be built into a cultured personality. For this purpose, cultural or Dharmic training is required in daily life. Women's movements need to understand this aspect of equality. n