The way media outlets and influencers put the blame on Karnataka Bajrang Dal leader Harsha for his brutal murder betrays their duplicity and double-standards. The Left-liberal cabal had always tried to put the blame on victims – be it Kashmiri Pandits or Kishan Bharwad – when the aggressors belonged to Abrahamic religions
Liberal and media duplicity plays out shamelessly whenever Hindus are at the receiving end of atrocities by followers of Abrahamic faiths. When Lavanya, the 17-year-old Tamil Nadu girl student, had committed suicide after she was humiliated and insulted by nuns of a Church-run school following her refusal to convert to Christianity, major media outlets, including The Hindu and Times of India, leave alone Tamil TV channels, tried to fabricate a narrative to provide an escape route to the accused. They have the same template – if Hindus are victims, then they asked for their death because they were criminals. In the case of Lavanya, media outlets peddled a fake tale that his father and stepmother were responsible for her death.
In the brutal murder of Bajrang Dal activist Harsha by Islamic radicals belonging to terror outfit Popular Front of India (PFI) in Karnataka's Shivamogga on February 20, the media outlets and Liberals toed the same line – Harsha's past was responsible for his murder.
The 28-year-old Bajrang Dal activist was brutally stabbed to death for supporting the Karnataka government's regulation on uniforms that prohibited students from wearing any religious attire inside the educational institutions. Harsha was murdered for defending uniformity in dress code in educational institutions against students who demanded that hijab be permitted in classrooms. He was killed for expressing his views on hijab. He was also critical of the role of Islamists who were hell-bent on creating problems in the area. The Campus Front of India, the student wing of PFI, deliberately created the controversy with the sinister aim of creating communal strife in a BJP-ruled State.
Immediately after news about Harsha's killing emerged, some media outlets pushed the narrative that personal enmity was the reason behind the murder. Two days later, the Karnataka Police arrested Qasif (Kasif), Syed Nadeem, Mujahid, Rihan alias Qasi, Afan and Asif – all activists of PFI. According to locals, Harsha had repeatedly received several threats from the Islamists over allegedly "blasphemous" social media posts. The locals said radicalisation of Muslims gained pace after PFI became active in the area.
Harsha's murder triggered massive outrage across the country. Yuva Morcha leader and MP Tejsavi Surya visited the parents of Harsha and promised justice for him. Surya said the murder was a terror act. Harsha's murder has evoked a strong response from Hindus, expressing their anger and helplessness against the repeated terror attacks on the community.
Even as more facts were coming out of the State, Islamists and the Left-liberal ecosystem have been peddling fake narratives about Harsha. As the role of Islamists in the coordinated killing of Harsha emerged, the Islamists and the left-liberal media cabal quickly attempted to whitewash the crimes committed by the Muslims. Instead, they tried to shift the blame on the 28-year-old victim Harsha for his own death. Following the standard operating procedure of the Left-Liberal ecosystem, Indian Express published a report saying that the police are investigating the criminal antecedents of Harsha to find out the motive behind the murder. Quoting an anonymous person, the Indian Express claimed that Harsha was involved in at least five assault and attempted murder cases, having "communal overtones".
The Indian Express reporter had 'discovered' that Harsha was part of a mob that attacked Muslim traders in Shivamogga city on December 3, 2020. But it did not have any proof to substantiate its claim. The paper even tried to push a narrative that Harsha was a "criminal' against whom cases were registered, and his murder was a reaction to his own act.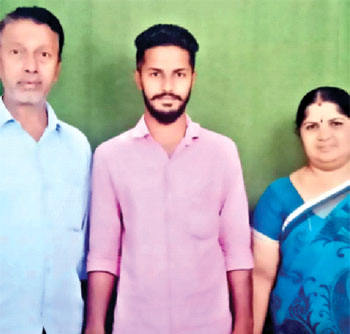 Drawing from the fake narrative of the Indian Express, far-Left propaganda site Brut India has also tried to portray the killing of Harsha as a legitimate response by Muslims over the Hindutva leader's alleged criminal antecedents. Brut India has shared a story on Instagram of violent incidents that took place in Shivamogga following the death of Harsha. The post portrays the Hindu community as the aggressor in the events that followed after Harsha's murder.
Times of India, which in its first report claimed that Lavanya killed herself for being humiliated and played up the police version that there was no conversion angle, took almost a similar line in the Harsha murder case. Quoting 'sources', Times of India reported that Harsha was attacked in the past for his hate posts on social media. The report also added that Harsha might have been killed for his alleged derogatory post pertaining to the hijab protests that had angered some people.
While the media normalised the killing of Hindus for exercising their freedom of expression, it became the defender of freedom of expression when stand-up comedian Munawar Faruqui insulted Hindu Gods and Goddesses. The Left-Liberal ecosystem not only stood by him, but celebrated his gut-wrenching jokes on Hinduism.
The media narrative was reinforced by Left-Islamist influencers and media professionals. Jas Oberai, a radical left social media influencer, said that Bajrang Dal member Harsha had five cases against him, including cases that were related to anti-Muslim violence. He was only repeating the lie put out by his colleagues in the media. In a bid to play the victim card, Mohammed Zubair, dubious fact checker, posted a tweet in which he said Muslims in Shivamogga as victims and that their shops and commercial establishments were attacked by Bajrang Dal members.
Similarly, Islamist apologist CJ Werleman tweeted, without any shred of evidence, that Harsha was a terrorist belonging to the 'Hindu extremist group Bajrang Dal', which carried out a wave of terrorist attacks against Muslims in Tripura in November.
Many commentators whose hearts were bleeding for hijab-clad women (because some of them were above 18 years of age) in school, chose to remain silent, as the victim was a Hindu.
Dangerous Precedents
There are similarities between the murder of Harsha and Kishan Bharwad of Gujrat. Both were killed for expressing their opinions on social media. Those who talk endlessly about dara hua Mussalman are silent on the community's intolerance. By remaining silence over the murders, the media and the intelligentsia are putting their weight behind Islamists who believe Islam is above scrutiny and whoever attempts he/she would be liquidated. Cartoonists in Charlie Hebdo were killed for drawing cartoons on Prophet Muhammad. Such an attitude is not acceptable in modern democratic world.