DMK poses an existential threat not just to Hindu Dharma in Tamil Nadu but also to Bharat as a nation
Aurangzeb's reign of nearly 50 years had left an indelible mark on the cultural landscape of Bharat. From demolishing thousands of temples to large-scale conversion, particularly in Kashmir, the fountainhead of spirituality, Aurangzeb's actions had changed the course of history and Bharat continues to pay a heavy price even after 350 years. By the time the DMK Government led by Stalin completesits term in Tamil Nadu — a State that was largely remained unaffected by the ravages of both Islamic and Christian invaders– it might have brought about irrepairabledamge to the Hindu Dharma. Stalin's rule could pave the way not only for immense demographic changes like in South Korea where Christianity has largely replaced Buddhism but also could witness emergence of separatist movements like in North East of Bharat.
Hindu Dharma in Tamil Nadu is facing an existential threat. The Stalin Government is controlled by the evanglicals, as DMK came to power with their support. Stalin himself said during the inauguration of the 75th anniversary of the Church of South India in October 2021, that, "The Government in Tamil Nadu was formed by you." Stalin said this while standing next to virulent Hindu haters such as Dr Erhilan who spoke in the most vulgar terms about Hindu gods in front of young children. Ever since coming to power, the DMK Government has demolished many Hindu temples and every possible reason is invented such as water bodies or encroachment to demolish temples. As per a recent court case, 16 major temples, many of which are more than 100 years old, were demolished. This includes a 125-year-old temple on the banks of Muthanankulam, a lake. It was demolished in the name of removing encroachment near a water body. The temple was singled out though there were several Government-owned buildings situated near the so-called water body. What is deliberately ignored is Hindu temples are constructed for millennia next to water bodies.
Although temples are targeted, the administration always turns a blind eye to hundreds of churches constructed on encroached land. A Thorium-rich hill was grabbed by the Church. But no action was taken against it. The images of demolition that are widely circulated in media are gut-wrenching, bringing to life what things would have been when Aurangzeb systematically destroyed Hindu temples across Bharat. Not only demolishing temples, the Stalin Government is going after temple wealth to build so-called secular institutions which will be managed by evangelicals. They even set up a fish market near a temple to insult Hindus. DMK MLAs openly derogate Hindu symbols and Hinduism in public speeches, even in the State Assembly, despite the majority of the electorate are Hindus.
Why does the Government want to undertake in large-scale demolition of Hindu temples? The presence of a temple is a major deterrent to conversions. Temples, even small ones, form a spiritual centre around which people congregate and it is where the strong bonds develop to their faith despite the travails of life. It is this systematic destruction of small and big temples that were eventually replaced by big churches playing a major role in converting Buddhist majority South Korea into a Christian majority nation in recent times. Make no mistake, the Christian conversion mafia has ambition nothing short of the destruction of every temple in the State. In the best-selling book, The Darkening Age: The Christian Destruction of the Classical World by Catherine Nixey gives accounts of how Christianity systematically destroyed the so-called Pagan temples. Conversion of native temples to Churches is seen all across South America. From Constantinople in Europe to Aztec and Mayan kings in South America, once the church got into corridors of power, it worked quickly to destroy the temples of native religions, assassinated or subdued their saints, and wiped out their memory. Appropriation of Hindu temples and scriptures is the modus operandi of evangelicals who construct churches similar to temples.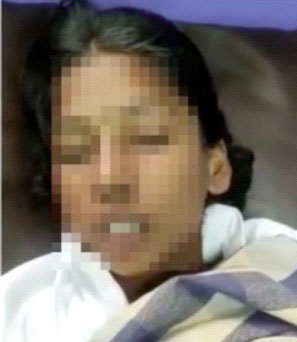 The school where Lavanya studied did not even have a licence to run a hostel. She is suspected to have been admitted as an orphan. Orphans provide a means not only for funds but also means for sexual abuse and torture
The destruction is targeted toward the old traditions of the State that bring communities together such as the fake stories about Jallikattu. Eventually, they will replace all Hindu festivals with Church versions like it was done across all Americas and Africa. Christmas itself was a usurpation of a Pagan harvest festival similar to the Pongal festival in Bharat.
In the recent case of Lavanya, 17-year-old student who committed suicide after she was tortured and insulted for conversion, the Government tried everything possible to protect her tormentors. But how many Lavanyas are out there? The Roman Catholic Church is notorious for enormous paedophilia and coverups involving its priests and nuns as perpetrators. Even today Canada is discovering mass graves of native children on the premises of the Churches where the native Canadian parents are forced to send their children to Christian schools. Native children were sexually abused by priests, infected with dangerous infectious diseases, and buried in mass graves on the grounds of Christian schools. Many of the Christian schools in Bharat have a complete ecosystem where there is a school, hospital, church, burial ground hidden behind big walls or big campuses where little is known about what happens to the children, particularly the orphan and hostel children. The school that tortured Lavanya did not even have a licence to run a hostel, where she was suspected to have been admitted as an orphan. Orphans provide a means not only funds but also means for sexual abuse and torture. There are reports of other such past cases coming out on social media. Social media is also full of pictures of young children in prayer halls of the schools before exams, swooning for Jesus, and other practices which are deliberate attempts to convert young minds. Though these schools are Government-aided where teacher salaries and infrastructure expenses are paid by the taxpayers (i.e., majority Hindu community) and even exempt from RTE due to minority institution category, Hindu children are terrorised and beaten up for wearing Hindu symbols, whether kumkum, tilakam or wrist threads. Poor Hindu children are forced to convert to get admission because they cannot pay cough up fees even though the Government pays much of the expenses.
Conversion activities have gone up ever since DMK came to power in the State. They have been arresting people who are reporting and resisting conversion activities. This has become a very dangerous situation.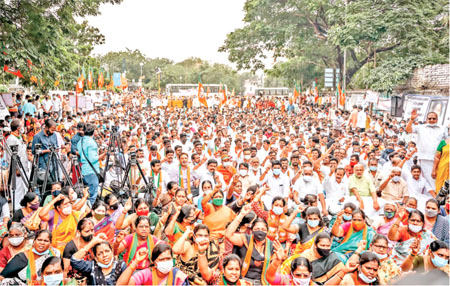 A 125-year-old temple situated on the banks of Muthanankulam lake was demolished under the pretext of removing encroachment near a water body. The temple was singled out though there were several Government-owned buildings near the water body. What is deliberately ignored is Hindu temples are constructed in the vicinity of water bodies for Centuries
Swami Vivekananda and Dr B R Ambedkarhad warned the nation that Christian conversion is nothing short of denationalisation. Mahatma Gandhi, for all his disastrous appeasement policies, had understood the imperial designs behind conversions. He not only called for legislation against conversions but also advocated GharWapasi categorising the missionary activities in Bharat as the deadliest poison. Western Christian institutions such as Vatican-appointed priests are answerable to Western institutions that have their agenda against Bharat and can have very serious consequences. The movement against the Kudankulam project was facilitated by the Church for their Western masters.
How did things come to such a pass? While DMK has a long history of purusinganti-Hindu agenda, the State also has a majority of officials (estimated at 40 per cent) from reserved sections who are crypto Christians where hate for Hindu religion is ingrained as part of the conversion. Many of the judges in Tamil Nadu owe their position to the long rule of the DMK Government in the State. Power-hungry DMK after 10 years out of power was well-funded by Church organisations which seem to get unlimited funds from foreign missionary mafia (despitecurbs on FCRA) are beholden to the Church agenda. A majority of media outlets in the State are associated with political parties which have little interest in providing objective news reports and worse, as seen with the Lavanya case, were spreading fake news against her and her distraught family, discarding every norm of journalistic ethics and basic sense of humanity. Much of the national media also have deep connections to the Western institutions that look the other way or never report the full significance of events unfolding in Tamil Nadu under Stalin. High decibel fake campaigns against the Modi Government such as intolerant, minority affecting, lack of freedom of religion by Western institutions that want to convert Bharat is providing immense cover to atrocities committed by the church. Funded by the church, the Tamil movie industry is infested with converted crypto Christians who are pushing their agenda. All this has proven to be an explosive combination paving an ominous situation for Hindus who are largely disorganised and have few mechanisms to counter the vicious Christian propaganda.