The Kashmir Files is the beginning of a new revolution; the film gives an authentic depiction of the biggest tragedy in the recent history
It was the 8.25 pm show at Bioscope, Kolkata, and I didn't expect the theatre full of the audience as The Kashmir Files was scheduled to end late at 11.10 pm. Public transport being truly scarce these days, people would find it difficult to disperse off back home late at night from Bioscope and hence, hardly a handful of co-viewers would accompany me to the theatre. Moreover, I hardly expected the secular crowd of Kolkata to be sensitive to the theme of The Kashmir Files as this is the crowd who initiated to opine post-poll Bengal Violence 2021, an imaginary portrayal of brutality that never happened. They also added post-poll violence was a dirty fantasy of a particular political party who wanted to play communal in West Bengal (as if Kolkata and West Bengal never suffered the toxin before).
Kolkata, I know, is full of Krishna Pandits who tend to think if a group of people continue to suffer poverty, lack of education and oppression for long, they might turn unduly aggressive. While common men might be insensitive to call them 'terrorists', they might be revolutionaries in reality. I observed Marxist grooming, tried to implant this psyche in the Bengal populace since the early sixties and men here could not resist such brainwash. Pretty much to my surprise and contrary to my contemplation, Bioscope Screen 4 was full at 8.25 pm. At 9.47 pm, when the film broke into intermission, leaving me still as stone on my seat with blurred eyeglasses and a soggy handkerchief on my lap, people around me started moving out of the hall living up to my apprehensions. They were leaving as they're insensitive enough not to believe in the film's content, I assumed. As a 1st generation descendant of a refugee family from East Pakistan, I remained disgruntled about people's insensitivity of the real reason behind Hindu exodus from East Pakistan and hence, apprehended Kolkata crowd won't perhaps believe in the content of The Kashmir Files. They were leaving the hall at the intermission fit into such pre-conceived assessment. But more tears trickled ceaselessly down my cheeks as I saw all of them returning back inside after the break. They couldn't leave. The Kashmir Files removed the shroud of narratives from over the mighty truth of Kashmiri Hindu.
Rhode Island Recognises Genocide of Kashmiri hindus
American State Rhode Island officially recognised the genocide of the Kashmiri Pandits in the Kashmir Valley. It also recognised the efforts of director Vivek Ranjan Agnihotri for bringing alive the stories of the persecuted Kashmiri Pandits on the silver screen.
The Kashmir Files, a film directed by Vivek Ranjan Agnihotri, tells how the persecution of the Kashmiri Pandits happened in the Valley. The film was released in theatres globally on March 11.
"Be it hereby known to all that the Rhode Island House of Representatives hereby offers its sincere congratulations to Vivek Ranjan Agnihotri, director and filmmaker, in recognition of the premiere of The Kashmir Files, detailing terrorism and extremism by memorialising the events of 1990in which 500,000 Kashmiri Hindus were ethnically cleansed in the Kashmir Valley by Islamic gangs and forced to live as refugees.," the citation read.
It added, "The entire membership extends its very best wishes on this memorable occasion and expresses the hope for continued good fortune."
Agnihotri posted the picture of the citation with the message "HISTORIC: First time in 32 years, any state in the world, the democratic and liberal state of USA-Rhode Island, has officially recognised Kashmir Genocide due to a very small film. Please read this and decide who is the persecutor and who should get the punishment. This is #NewIndia." He also said that 'acknowledging the genocide is the first step towards justice'.
Lakhs of Kashmiri Pandits were forced to leave their ancestral land overnight by Islamic terrorists in the Valley. Thousands were raped and murdered. They became refugees in their own country.
The Kashmir Files is a bold attempt to tell the story of the Kashmiri Pandits genocide as it happened. Multiple attempts were made by the Leftists, the Islamists and the vested interests to sabotage the film. It was called a propaganda movie even before its release. NDTV called it a propaganda movie. Multiple YouTuber propagandists tried to derail the movie even before its release.
Contrary to their expectation, the movie was warmly received by the audiences. It's running on more than 2,000 screens in the country, and many people are finding it difficult to book the ticket as shows are running houseful.
Many State Governments, including Haryana, Madhya Pradesh, Uttarakhand, Uttar Pradesh and Karnataka, have declared the movie tax-free. Madhya Pradesh Home Minister Narottam Mishra ordered the State DGP to grant State police personnel a one-day special leave to watch the movie.
As I watched The Kashmir Files, the details of the film were fascinating. While the filmmaker didn't take a single step away from a dignitarian approach to portray the worst fate of humanity and one of the goriest savageries against mankind, the viewers had no difficulty perceiving the blood-curdling terror Kashmir was subjected to. Vivek Agnihotri filmed it subtle enough to shake the composite soul of mankind. On the one hand, The Kashmir Files is enough of a feature film to surmount the limitations of documentary films. On the other, it is enough of a documentary not to deviate even a single millimetre from the subjective truth.
Vivek Agnihotri created a timeless piece that is plainly a pious document of truth. The Kashmir Files would ever be treated as a text reference of the Kashmiri Hindu genocide and not as a film in due course of time. As reactants stay together under controlled conditions for long and yield end products quite different from original reactants through slow organic reactions, Vivek Agnihotri's The Kashmir Files too would raise human race to a different level of realisation that might lead to a historical course correction of human civilisation itself. The film, to be precise, is more of a forensic reconstruction of the Kashmiri Hindu genocide's long term impact on the human mind; this may not be fully known to the filmmaker himself. His monumental research work needs to be stacked for future reference.
The Hindus, even while facing the monstrous evil of Islamic jihad on earth, couldn't believe their own eyes and senses they have been taught to possess large human hearts to form a consortium of all within. The Islamists, who attacked them came up with the antithesis of consortium. They were in ceaseless conflict with everything non-Islamic and determined to grab the land of Kashmir along with properties and women of Kashmiri Hindus. They were hardly in possession of any ability to realise how they travelled opposite to light and were dragging mankind back to primitive darkness.
Pushkar Nath was struggling with his soul to believe his own student Bitta could do all those he did. So couldn't believe that innumerable Bengali Hindus of East Pakistan who too had to leave their place, stories whereof are yet to be told.
The Kashmir Files is wisdom on screen. I couldn't have sensed the truest essence of pain I marked in my Jethu's (Uncle, father's elder brother) eyes as he sang "Sokol Desher Rani se Je Amar Jonmobhumi" (a song written by D L Roy meaning "my Motherland, She is the queen of all countries"), had I not watched The Kashmir Files. While I sang the same song with much passion and contentment, his expressions exuded immense pain. After all these years, Pushkar Nath transmitted my Jethu's pain into my soul. My octogenarian Dadu (grandfather) referred to our house built in 1968 in West Bengal as 'their house' (their = his sons') even though some of his own funds came useful in its construction. In the early 1980's, the then child in me received only mute silence in reply to my question— "Why theirs? Not yours?" The little girl didn't know nothing more eloquent could ever be than complete silence. The Kashmir Files, after almost 35 years, unmuted my grandfather's silence. "tuta hua log batata nahi", said Brahmadutt adding, "aur koi sunne ki koshish bhi toh nahi ki". — The civil society hardly realised they put civility down by choosing to remain silent about Kashmiri Pandits' exodus. Brahmadutt was played by Mithun Chakraborty, another Hindu Bengali from East Pakistan who had to come and resettle in Kolkata.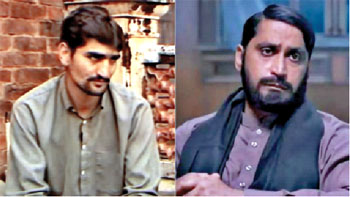 Muslims were poor & properties of East Pakistan vested predominantly upon Hindus; Islamists were left with no option but to capture them by force—justified Amartya Sen. He presented no other scholarly logic but Land Reform to explain Islamic Terror. However, by Leftists' definition, Land Reform necessitates the application of force. From this axiom of perception, slaughtering and driving Kashmiri Pandits out of Kashmir were also Land Reform
The Kashmir Files would relate to all persecuted people all over. Pushkar Nath's neighbour in the Jammu refugee camp was humming a poignant tune. "O my dear house, I can sacrifice all for you"— She continued to sing and breathed her last, leaving viewers in a pool of tears. The scene reminded me of an incident of 2005 when I eventually met in South Kolkata a very old lady suffering from Alzheimer's disease, who too came to West Bengal as a refugee from East Pakistan. On coming to know about my background of being from a refugee family too, she repeatedly and monotonically murmured a few sentences—"my in-laws house in Pabna (now in Bangladesh) was huge, Thakur (father-in-law) was a lawyer of fame, and there stood a pomegranate tree just beside the huge main gate of our campus". The Alzheimer's patient could not forget the pomegranate tree. After Syama Prasad Mookerjee entered Kashmir without a permit in 1953 to reinforce that Kashmir ever was and would remain an integral part of India, people who didn't like his courage did everything that yielded to put an end to his life. In 1990, the same evil force with the same intent to deny Kashmir an opportunity to be a part of India worked to cause an exodus of Kashmiri Pandits. It appears a tenable hypothesis to presume that Mufti Mohammad Sayeed of Kashmir was deliberately chosen as Home Minister in V P Singh's Government, 1989 with the very intent of conducting such a crime against humanity.
Film on Malabar Hindu Genocide, Soon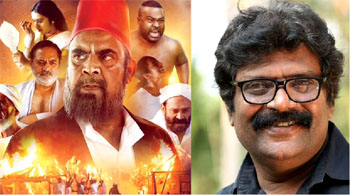 The film, The Kashmir Files, has triggered an explosion in the country in terms of interest in the Hindu Genocide of 1990s carried out by Islamic terrorists supported by their handlers across the border in the Valley. The film has ripped apart the veneer of political correctness and tuned the spotlight on the savagery of Islamic terrorists who carried out unspeakable atrocities on hapless minority Hindus to establish Nizam-e-Mustafa (Islamic rule). There was a conspiracy of silence. The Left-Liberal cabal which ruled the roost in the country, controlled the narrative, academia and media swept the facts of the genocide under the carpet. Even though the event happened in the recent past, the cabal utilised every tool in their kit to distort national discourse, push false narratives and discredit the victims – blaming the miniscule minority, the Kashmiri Hindus, for their plight.
The Kashmir Files has spurred the demand for more such initiatives to unravel the real story behind the genocides of the past – 1921 (Malabar), 1984 (anti-Sikh pogrom) and 1947 (post Partition bloodshed) – shrouded under blanket of lies propagated by Left historians and the Congress establishment.
It is heartening that on 1921, a film is being made by noted filmmaker Ali Akbar – he recently converted to Sanatan Dharma and adopted new name Rama Simhan. Titled Puzha Muthal Puzha Vare (From the river up to the river), the film promises to reveal the real story of Malabar Hindu genocide, which, in terms of magnitude, ferocity and savagery, is equal to the genocide in Kashmir. –G Sreedathan
The prime reason furnished by the media behind the exodus of Kashmiri Hindus was exactly the same as the one shown by Amartya Sen behind the exodus of Hindu Bengalis from East Pakistan. Amartya Sen's family permanently shifted from Dhaka to Shantiniketan in 1945. The next year, Undivided Bengal saw the first genocide of Hindu Bengalis at Kolkata in August. While Amartya Sen fondly remembered both Dhaka and Shantiniketan, he maintained a deafening silence regarding why his paternal house at Dhaka became permanently inaccessible to him. Sen pretended to take a scholarly stance to explain the rationale of forceful capture of Hindus' properties accompanied by Hindu genocide by Islamists in East Pakistan, aka Bangladesh. He described the condemnable act as a 'land reform'. Muslims were poor and properties of East Pakistan vested predominantly upon Hindus; Islamists were left with no option but to capture them by force—justified Sen. He presented no other scholarly logic but land reform to explain Islamic terror. However, by Leftists' definition, land reform necessitates the application of force. From this axiom of perception, slaughtering and driving Kashmiri Hindus out of Kashmir were also land reform. People like Radhika Menon and Amartya Sen became the secessionists' intellectual brand ambassadors.
The Kashmir Files opened pandora's box as it exposed the intricacies of Islamic jihad being political aggression in the name of religion to capture land, properties and women of non-Muslim communities. The film has demonstrated the necessity for human civilisation to re-evaluate the sustainability of such acts in the name of religion.