Islam treats women as inferior. Psychological indoctrination is the tool Islamists use to keep women oppressed, say women who had converted to Islam and reverted to Sanatan Dharma
In Sanatan Dharma, we have always worshipped women deities—Parasakthi, Kaali, Durga. Women were free to get an education; we had Rishikas and intellectuals, women who ran businesses, and women had the freedom to choose their partners through the Swayamvara system. Women could perform Yajnas alone, in the absence of a male partner, whereas a man couldn't, the other way around. We had scholars and Rishikas such as Gargi, Ghosha, Lopamudra, women who gave Dharmopadeshas, such as Choodala, Uloopi, Gandhari, Kunti, Tantra Yogini Bhairavi, warriors such as Vishpala and the list is long. It was only with the emergence and percolation of Semitic religions, that this began to decline. Even non-Dharmic pre-Semitic societies were relatively more progressive. The popularisation of Christianity and Islam reversed the trend. Pre-Islamic Arabia had female deities Al-Lat, Al-Uzza, and Al-Mannat. Women ran businesses on their own. Khadeeja, a widow, was a highly successful businesswoman, and Muhammad was her servant. Despite Khadeeja being much older than Muhammad, they were able to marry each other, which displays the liberal nature of society before Muhammad organised Islam.
As Islam grew, countless regressive and repressive verses were 'revealed', rather created by Muhammad to suit his interests and keep women under control. Women were reduced to mere objects to satisfy men; they cannot inherit property equally, their witness has half value, they can be divorced without mutual consent, they could be beaten by the husband if they didn't 'please' their husbands even if they were undergoing excruciating labour pain and it is believed that the Malaks shall curse her all night, and of all the 1,24,000 messengers they claim to be sent by their god, there is not a single woman messenger. The hijab is an example of how women are being restricted by taking them back to the dark ages. Contrary to the popular narrative that it is a symbol of piety, freedom, and brings them closer to Allah, Muhammad initially imposed the hijab on his wives to cover themselves so as to 'safeguard' them as they attended to nature's calls in the open. There are reports in the Hadiths that substantiate this.
TN love jihad victim gang-raped, poisoned to death
A 17-year old girl from Tamil Nadu who was enticed to elope with her Muslim lover on February 14 was drugged and gang-raped. She died of poisoning on March 6.
Geetha (name changed), a resident of Mosque Street at Thumbaipatti, was trapped in a fraudulent love affair by Nagoor Hanifa, son of Madheena Begum Hanifa. The girl's father, Palaniappan, is mentally challenged, and her mother did not approve of the affair. The girl left her home on February 14 (Valentine's Day) and did not return. When she did not return, the girl's mother, Sabri, lodged a missing complaint on February 15, accusing Madheena and her son Nagoor Hanifa of abduction. But the police registered the case only on February 21.
The girl's videos and pictures of getting treatment at the hospital and seeking justice went viral on social media. However, after the girl's mother complained about the victim's condition, the Madurai district police registered a case under the provisions of the Protection of Children from Sexual Offences Act for penetrative sexual assault on the child more than once or repeatedly and for aggravated penetrative sexual assault. The police said the girl had gone with a boy, identified as S Nagoor Haneefa, 29, of the same area.
Along with Nagoor Hanifa, police have arrested P Prakash, P M Perumal Krishnan, Raja Mohammed, Sahul Hameed, Nagoor Hanifa's mother Madheea Begum, father Sultan Allahuddin, maternal uncle's wife, Ramzab Begum aks Kannammal. Police registered a case under section 143, 366 (A),307 IPC and 5 (L) 6 of POSCO act, 307 IPC.
VHP has demanded a CBI probe and capital punishment for the "love jihad" accused and also demanded it to be probed by NCPCR and NHRC.
Narrated `Aisha: The wives of the Prophet used to go to Al-Manasi, an open space to answer the call of nature at night. `Umar used to tell the Prophet, "Let your wives be veiled", but Allah's Apostle did not do so. One night Sauda bint Zam`a, the wife of the Prophet went out at 'Isha' time and she was a tall lady. Umar addressed her and said, "I have recognized you, O Sauda". He said so, as he desired eagerly that the verses of Al-Hijab may be revealed. So Allah revealed the verses of "Al-Hijab" (A complete body cover excluding the eyes).
(Sahih al-Bukhari Book 4, Hadith 12)
Muhammad was known to have a monogamous marriage until the death of his first wife Khadeeja. Post that, he married multiple women and captured many sex slaves, and in order to practice 'control' over them owing to his growing jealousy and intolerance, he forced his wives to cover themselves publicly and around other men. Citing from the Hadiths, Umm Salamah narrated to Nabhan: that she and Maimunah were with the messengers of Allah. She said, "So when we were with him, Ibn Umm Maktum came, and that was after veiling had been ordered for us. So the Messenger of Allah said, "Veil yourselves from him". So I said, "O Messenger of Allah! Is he not blind such that he cannot see us or recognize us?" So the Messenger of Allah said, "Are you two blind such that you cannot see him?'"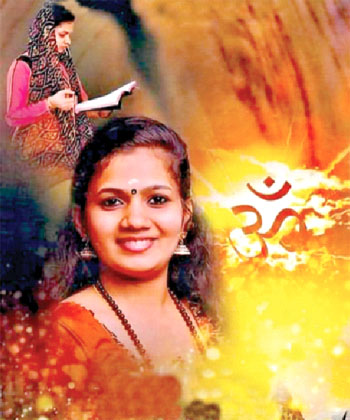 The psychological indoctrination causes deep stress that Hindus are made to turn against their own culture, family, society, Dharma, and nation. According to Sruti who converted to Islam and reverted to the Hindu fold writes: "Looking at the picture of Param Shiva, I angrily murmured, 'Iblis, I don't want to see you. You have intentionally spoken through my Father to thwart my Namaz.' I looked left and uttered 'thoo', performed Wudu once again and started offering Namaz."
Jami`at-Tirmidhi 2778
24:31. And direct the believing women that they (too) must keep their eyes lowered and guard their chastity, and must not show off their adornments and beautification except that (part of it) which becomes visible itself. And they must keep their veils (and head-coverings) drawn over their chests (too), and must not display their adornments (to anyone) except their husbands, or their fathers or the fathers of their husbands, or their sons or the sons of their husbands, or their brothers or the sons of their brothers or the sons of their sisters, or (the women of) their (own faith, the Muslim) women or their female slaves or such male servants as are free from any lust and sexual urge, or the children who (being minor) have (yet) no sense of women's private parts. (They too are exceptions.) And turn to Allah, all of you, in repentance, O believers, so that you may prosper (by implementing these
commandments).
Over the years, Muslims have been glorifying and romanticising the hijab and clueless people, especially converted women are adopting it.
For the past two decades, Aarsha Vidya Samajam, has been relentlessly fighting against such ideologies by countering the fundamental problem, which is the lack of awareness about Sanatan Dharma and the indoctrination of Semitic and other ideologies. Led by its founder and director, Acharya Sri K R Manojji, the organisation has been successful in bringing back more than 5,000 women and men who had converted. This is done by a systematic curriculum that Aacharya ji prepared through the knowledge he received through Guru Paramparas; the Atreya Parampara, the Himalayan Siddhashrama Parampara, and the Kriya Yoga Parampara, his own research and experience. More than 25 such people, who returned through Aarsha Vidya Samajam are its full-time Pravarthaks today and have dedicated their lives fully to this mission. Some of them have even written books in Malayalam describing their experience. Elaborating on what led her to convert to Islam and return to the Hindu fold, one of Samajam's pracharikas O Sruthi has written a book, Story of a Reversion, while another pracharika Santhi had written on her experience in Reborn. Santhi was converted to Christianity.
"In order to be a true Muslim, of Iman, there are some regulations to be followed. If Allah has to accept my Namaz and prayers, and observe rituals religiously, I must convert legally to Islam, and compulsorily wear the Burqa and Hijab," writes Sruthi in Story of Reversion. This is how new converts into Islam are misled into adopting the hijab.
After converting to Islam, Sruthi had adopted the name Rahmat. Despite her parents pleading her to return, she used to say, "Can't you compromise, mother? I will not leave you. But I can't leave Islam, I cannot forsake my belief". The psychological indoctrination causes deep stress that Hindus are made to turn against their own culture, family, society, Dharma, and nation. "Looking at the picture of Param Shiva, I angrily murmured, "Iblis, I don't want to see you. You have intentionally spoken through my Father to thwart my Namaz." I looked left and uttered 'thoo', performed Wudu once again and started offering Namaz."
These books are perhaps the first books on Comparative Religion to be written in Kerala after Chattambi Swami's 'Christu Matha Chhedanam' and the first of their kind to be written by Hindu women, who had converted and later returned to Sanatana Dharma. The highlight of these books is that they beautifully elucidate the strategies employed by the conversion forces, the threats of conversion, the mental state of those who are going through it, and how to resist and overcome them. It is appalling that their ways are so indoctrinating that they can create a Jihadi mindset even in highly educated and intelligent people. (To order these books, visit: www.arshaworld.org/avs/books)