IAF and Royal Air Force of Oman participated in a bilateral exercise named Eastern Bridge-VI from February 21 to, 25, 2022, at Air Force Station Jodhpur. This was the sixth edition of the exercise. It provided an opportunity to enhance operational capability and interoperability between the two Air Forces.
INDIAN NAVY'S MULTI-NATIONAL EXERCISE MILAN-2022
The latest edition of the Indian Navy's multilateral exercise, MILAN 2022, commenced on February 25, 2022, at Visakhapatnam. MILAN 22 is being conducted over a duration of 9 days in two phases, with the harbour phase scheduled from February 25 to 28 and Sea Phase from March 1 to 4. The theme of the MILAN 2022 exercise is 'Camaraderie—Cohesion—Collaboration', which aims to project India as a responsible maritime power to the world at large. The aim of the exercise is to hone operational skills, imbibe best practices and procedures, and enable doctrinal learning in the maritime domain through professional interaction between friendly navies. MILAN 22 will witness its largest-ever participation, with more than 40 countries sending their warships/high-level delegations. This edition of MILAN would be larger in 'scope and complexity, focusing on exercises at sea, including exercises in surface, sub-surface and air domains, and weapon firings. Operational Conferences and Seminars are also being conducted, providing participating navies/ delegations with an opportunity to express their views on maritime security.
THREE MORE RAFALE JETS ARRIVE IN INDIA FROM FRANCE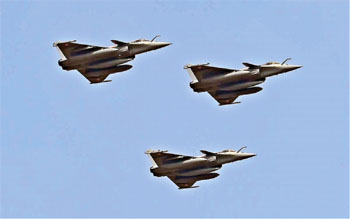 Three more Rafale fighter aircraft of IAF arrived in India on February 22, 2022, from France. With the arrival of these three aircraft, India has now received 35 of the 36 aircraft contracted for in September 2016. The 36th aircraft will arrive in India next month.