The Hon'ble President and Supreme Commander of the Armed Forces of India, Shri Ram Nath Kovind, reviewed the Indian Navy Fleet at Visakhapatnam on February 21, 2022. With the theme '75 years in Service of the Nation,' Indian Navy showcased its latest state-of-art indigenously built combat platforms during the 12th edition of the Fleet Review. After a 21-Gun Salute and Ceremonial Guard of Honour, the President embarked on the Presidential yacht, INS Sumitra, an indigenously built Naval Offshore Patrol Vessel designated as the Presidential yacht. The Yacht sailed past 44 ships from the Navy, Coast Guard, SCI, and MoES lined-up in four columns at anchorage off Visakhapatnam. A spectacular flypast was conducted as a part of the static review of the fleet. During the final stage of the review, a mobile column of warships and submarines carried out high-speed steam past alongside the Presidential yacht. Several enthralling waterfront activities by Parade of Sails, Search and Rescue Demonstration like Sea, Aerobatics by Hawk aircraft and Water Para Jumps by the elite Marine Commandos (MARCOS) held the guests mesmerised.
PRESIDENT'S COLOURS TO UNITS OF THE PARACHUTE REGIMENT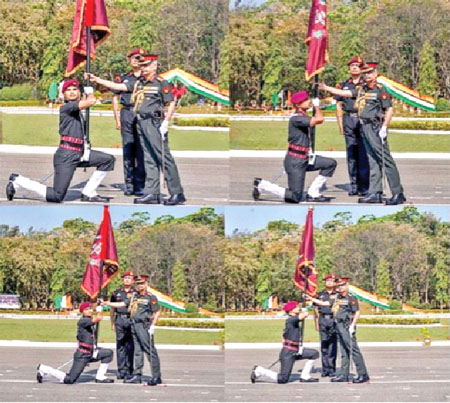 General MM Naravane, the Chief of the Army Staff, presented the prestigious 'President's Colours' to four battalions of the Parachute Regiment, namely 11 PARACHUTE (Special Forces), 21 PARACHUTE (Special Forces), 23 PARACHUTE and 29 PARACHUTE, during an impressive Colour Presentation Parade held at the Parachute Regiment Training Centre, Bangalore on February 23, 2022. The Regiment has been awarded a number of laurels in diverse theatres such as Gaza, Korea, Bangladesh, Srilanka, Maldives, Rann of Kutch, Siachen, Rajasthan, Punjab, Jammu & Kashmir and in the Eastern theatre including Manipur, Nagaland & Assam. Post-independence, battalions of the Regiment have earned an impressive tally of 32 Chief of the Army Staff unit citations, and its personnel have been awarded 08 Ashoka Chakra, 14 Maha Vir Chakra, 22 Kirti Chakra, 63 Vir Chakra, 116
Shaurya Chakra & 601 Sena Medals for gallantry and exceptional bravery.
RAKSHA MANTRI REVIEWS PREPARATIONS OF DEFEXPO 2022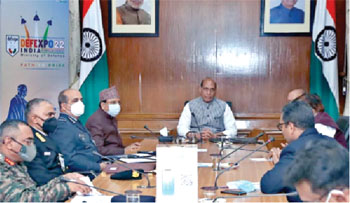 On February 18, 2022, Raksha Mantri Shri Rajnath Singh reviewed the preparations of DefExpo-2022, Asia's largest exhibition on land, naval and homeland security systems, to be held in Gandhinagar in March. So far, 930 exhibitors have registered for the mega event, and the numbers are expected to rise beyond 1,000 in the days ahead. Foreign Defence Ministers' confirmations are also being received.