In the passing away of legendary singer Lata Mangeshkar, Bharat lost its most beloved voice
Lata Mangeshkar, the Bharat Ratna awardee, passed away at 8:12 am on February 6, after suffering a multiple-organ failure at Mumbai's Breach Candy Hospital. She was admitted to Mumbai hospital in early January this year, after she tested positive for COVID-19 and was also diagnosed with pneumonia.
While she was admitted to the ICU with mild symptoms, on January 28, the singer was taken off the ventilator, after she showed slight signs of improvement. However, her condition deteriorated again on February 5 and she was back on ventilator support.
In a series of tweets, PM Modi said that the singer has always wanted to see a strong and developed India. "I am anguished beyond words. The kind and caring Lata Didi has left us. She leaves a void in our nation that cannot be filled. The coming generations will remember her as a stalwart of Indian culture, whose melodious voice had an unparalleled ability to mesmerise people," PM Modi tweeted.
"Lata Didi's songs brought out a variety of emotions. She closely witnessed the transitions of the Indian film world for decades. Beyond films, she was always passionate about India's growth. She always wanted to see a strong and developed India," Prime Minister Modi said.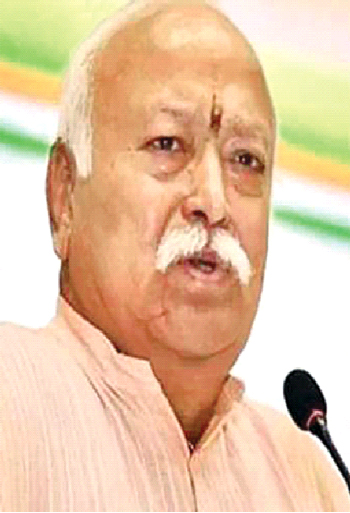 'It is difficult to describe in words the pain felt by the people of the entire country due to the demise of Lata Mangeshkar. May God give her family the patience to bear this loss. I pay tribute to her on behalf of myself and the Sangh' —

Dr Mohan Bhagwat

, RSS Sarsanghchalak
The Prime Minister said that his interactions with Lata Mangeshkar will remain unforgettable. "I consider it my honour that I have always received immense affection from Lata Didi. My interactions with her will remain unforgettable. I grieve with my fellow Indians on the passing away of Lata Didi. Spoke to her family and expressed condolences. Om Shanti," he tweeted.
Union Minister Nitin Gadkari said that Mangeshkar's contribution to Indian music is incomparable. "The country's pride and music world's Shirmor Swar Kokila Bharat Ratna Lata Mangeshkar ji's demise is very sad. My heartfelt tribute to the holy soul. Her passing is an irreparable loss to the country. She was always an inspiration to all the music seekers," Gadkari tweeted after he visited Breach Candy Hospital in Mumbai.
"Lata Didi was an intense patriot. She has always had a firm faith in the ideology of Swatantraveer Savarkar. Her life has been full of many achievements. Lata ji has always been an inspiration to all of us for good deeds. Her contribution to Indian music is incomparable," he said in another tweet.
"Sad to learn about the demise of Swar Kokila, Lata Mangeshkarji. She enriched our lives for decades with her soulful voice. The nightingale of India has passed away but she will live in our hearts forever. Om Shanti," Union Minister Pralhad Joshisaid expressing his condolences.
LataJi rued Veer Savarkar didn't get respect he deserved
The legendary singer and her family shared a special bond with Veer Savarkar. Veer Savarkar had written the lyrics of Shat Janma Shodhitana for Lataji's father's play Sanyasta Khadag.
Legendary singer Lataji breathed her last today (February 6) in Mumbai. She was 92.
The legendary singer and her family shared a very close bond with Veer Savarkar. On many occasions, she had lamented that Veer Savarkar did not get the respect he deserved in Independent India.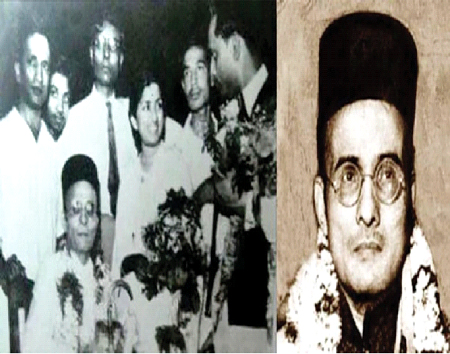 On Veer Savarkar's birth anniversary in 2019, Lataji had posted on Twitter "Namaskar. Aaj Swatantrya Veer Savarkarji ki jayanti hai. Main unke vyaktitva ko, unki desh bhakti ko pranam karti hun. Aaj kal kuch log Savarkarji ke virodh mein baatein karte hai, par wo log ye nahi jaante ki Savarkarji kitne bade deshbhakt aur swabhimaani the." (Namaskar, Today is the birth anniversary of Veer Savarkarji. I bow to his personality, and his patriotism. Nowadays, a few people have been criticising Savarkarji. However, those people do not know the stature of Savarkar's patriotism and self-respect.)
The great freedom fighter Vinayak Damodar Savarkar, popularly known as Veer Savarkar, had composed the famous patriotic poem Ne majsi ne parat matrubhoomila, sagara pran talmalala, extolling the sea to take him back to the motherland. He was in France at that time and was missing his motherland.
Lataji's brother Pandit Hridaynath Mangeshkarji had composed the music for the poem and the legendary singer had herself lent voice to the very popular patriotic composition.
In an interview to a Marathi daily in 2009, Lataji had said, "When the tunes for the poem was being composed, Tatya (Savarkarji) was alive. I went to him with the invitation to attend the event. But, since he was unwell, he blessed but could not attend the function."
In the same interview she had said that many people don't understand the sacrifices Veer Savarkar made for this great country and he could not get the respect he deserved.
After Independence, a campaign was run by the vested interests for years to malign Veer Savarkar and his personality. Many myths were concocted to belittle his sacrifices.
While paying tributes to the legendary freedom fighter on his birth anniversary in 2020, Lataji had shared a clip along with her tweet, which was an audio of the song Shat Janma Shodhitana. This song was composed by Lata ji's father Deenanath Mangeshkarji. The lyrics was written by Veer Savarkar for Deenanathji's play Sanyasta Khadag.
Born on September 28, 1929, she began her career in the year 1942 at the age of 13. In a career spanning over seven decades, the melody queen recorded songs for over a thousand Hindi films. She had sung songs in over thirty-six regional Indian languages and foreign languages.
In 2001, in recognition of her contributions to the nation, she was awarded the Bharat Ratna, India's highest civilian honour and is only the second vocalist, after MS Subbulakshmi, to receive this honour.
She's also the recipient of three National Film Awards among many other honours she received during the span of her career. 'Aye Mere Vatan Ke Logon', 'Babul Pyare', Lag Ja Gale' among others are some of her iconic songs.
Mangeshkar is survived by four younger siblings—Asha Bhosle, Hridaynath Mangeshkar, Usha Mangeshkar and Meena Mangeshkar. n